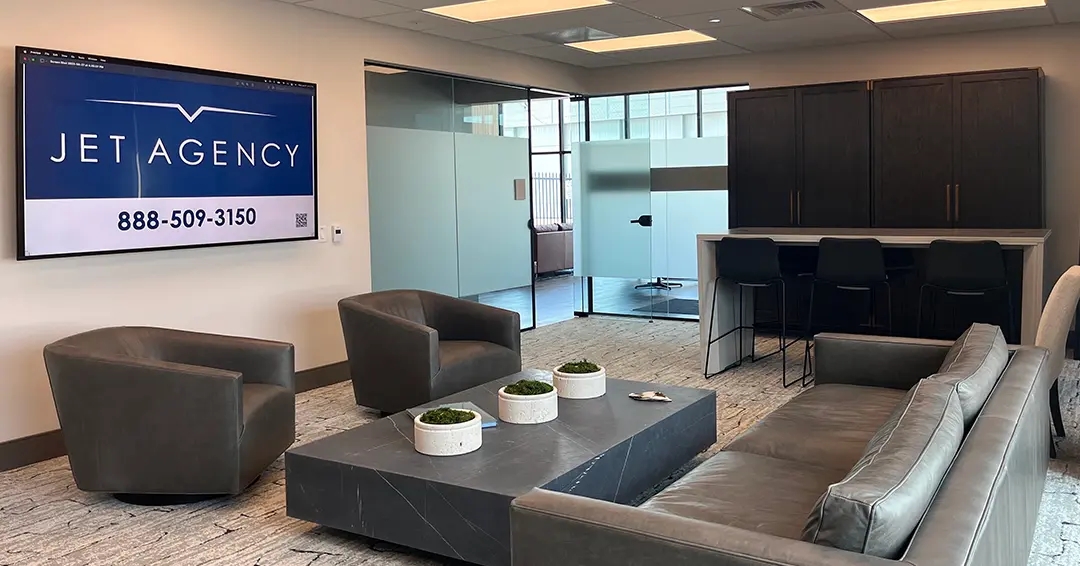 THE JULY MONTHLY FLIER NEWSLETTER WITH JET AGENCY
Written By Lance Tweden | 07.10.23
A Message from Lance Tweden, Jet Agency's VP of Membership:
Here at Jet Agency, we love Jets. That's why we just opened the Denver Sky Lounge giving us a view of jets all day long (Keep reading for more details). It's why we have worked so hard to stay one step ahead of what's happening in the industry.
Our model was purposefully designed to source aircraft directly from the open market. Not only does this give us access to nearly 6,000 aircraft, but it means we have relationships with a large majority of aircraft owners. We talk about the trends of the market every day with the people who know best, which means we have our finger on the pulse of private aviation.
With this newsletter, The Monthly Flier, we hope to share that unique insight with you. Each month, we will send you this newsletter that will include updates from Jet Agency, insights from our team about the private aviation market and key developments in the world of flight.
We want to get to know our members truly and we want our members to be able to know us. Whether you are a member or not, we hope this newsletter helps increase transparency in the private aviation industry and pulls back the curtain on what we're all about at Jet Agency.
Thanks, Lance Tweden
Jet Agency opens the Denver Sky Lounge at the Centennial Airport
This newsletter gives us a chance to share our developments before we share them with the general public. Jet Agency is announcing our new Denver Sky Lounge, a retail space housed within Modern Aviation's FBO at the Centennial Airport just south of the Mile High City.
The space offers clients like you a unique and relaxing way to interact with the team behind Jet Agency's revolutionary membership program and put their feet up while traveling through Denver. The Sky Lounge is another way that Jet Agency is working to diversify its business practices from the litany of other membership programs on the market.
"We are excited to let the market know that we are here and here to stay,' says Lance Tweden, Vice President of Membership for Jet Agency. 'We welcome people who are interested in learning more about our program to come in, visit and get an introduction to the Jet Agency experience."
The Sky Lounge will offer Jet Agency a place to host events, meet with clients and offer travelers a space to take a load off as they fly to and from the Mile High City. Located inside fixed-base operator Modern Aviation, the Sky Lounge is unique way for clients to experience the Jet Agency difference and learn how they can personalize a membership program around their specific needs.
Look for more information in our press release about the new Sky Lounge.
Very Light Jets category added to Jet Agency Membership
Jet Agency has added Very Light Jets to its membership program, expanding offerings to include an aircraft size often overlooked by private aviation companies.
With this addition, our members enjoy a level of flexibility most membership programs do not offer, giving them the power to choose the best aircraft for their mission. These nimble, efficient jets are perfect for any flight under two hours, giving you the power to select the perfect size and style of aircraft for each mission.
"Expanding our program to make it one of the few in the industry to offer Very Light Jets further sets our membership apart," said Lance Tweden, Jet Agency's Vice President of Membership. "This will allow greater access to membership at a lower fixed rate and broaden aircraft choice for our current members."
Very Light Jets are the smallest private aircraft available for charter, typically seating three to five passengers. With shorter minimum flight times, these aircraft are perfect for shorter trips typically flown by turboprops. This jet category not offered by other companies includes high-pedigree aircraft like the Cirrus Vision, HondaJet and Embraer Phenom 100, among others.
As with each of the other membership levels with Jet Agency, Very Light Jets are accessible with easy to understand fixed-rates that only charge for the time on the plane. Members who sign up for a Very Light Jet Membership will enjoy the transparent pricing and 24/7 customer service Jet Agency has become known for.
New members joining at the Very Light Jet level will enjoy interchange flexibility between jet categories with no additional premium. This offers the availability to book larger aircraft when a mission requires greater range or needs to accommodate more passengers.
Read more about Very Light Jets with Jet Agency.
The newsletter also gives us a chance to share exciting technology developments in the industry, such as this one out of the Paris Air Show this month.
Tech: This electric aircraft could be big for making private aviation sustainable, no runway required.
The Paris Air Show is always a big deal for aviation, and this year it came with some promising news for Eve Air Mobility, a company that specializes in electric vertical take-off and landing (eVTOL) aircraft. The company secured a letter of intent from sustainability-focused Norwegian carrier Wideroe for 50 jets, reports simpleflying.com.
Since starting up in 2020, Eve has had some success in the eVTOL space and now has an aircraft that can hold four passengers. Current designs are projected to fly 125 miles an hour for a range of 60 miles. Sure, not quite a Hawker 800XP level of speed or range, but still, not bad for electric.
Eve hopes to have a full-scale prototype later this year, with testing in 2024 and full certification by 2026. The aircraft is designed to have one pilot, but the jets are also being designed with autonomous flying in mind so the cockpit may one day be added baggage space.
SimplyFlying.com reports that this new order of 50 jets adds to preliminary sales Eve has made for nearly 2,800 aircraft to 26 different customers. Eve is also working with United Airlines in San Fransico to eventually have eVTOL flights between a location downtown and San Fransico International Airport.
Read more from SimplyFlying.com
Thanks for reading the first-ever Monthly Flier from Jet Agency. If this has you curious about Jet Agency, our All Membership, No Fees Attitude or our simple fixed-rate membership program, please reach out at any time. We would love to see how we can personalize a membership for you. CURIOUS ABOUT JET AGENCY?
Please let us know a little bit about you, and one of our experienced membership directors will be in touch shortly to help personalize a membership for you.