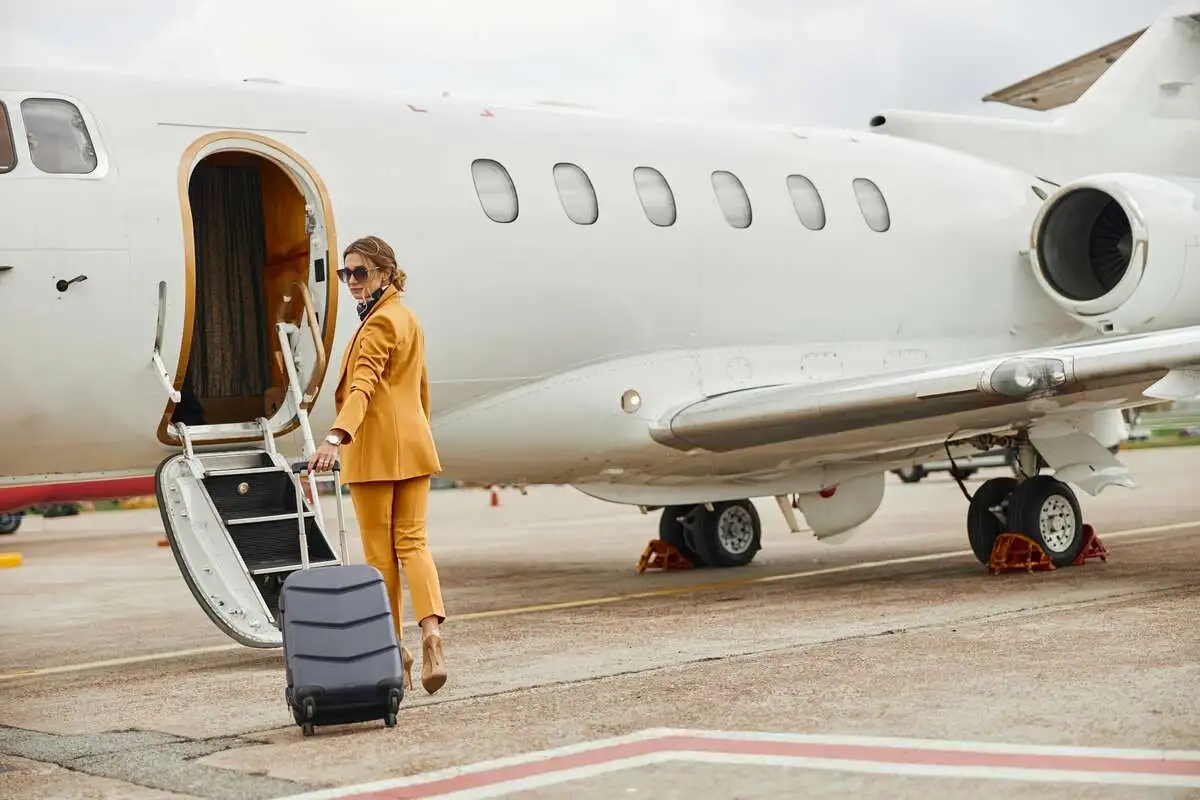 WHAT TO LOOK FOR IN PRIVATE JET MEMBERSHIP PLANS
Written By Dylan Anderson | 01.18.23
We all want the secret to getting the best value and convenience out of our travel. Fortunately, private jet memberships can provide you the value you expect without the secrets. Still, it does take time to find the right one, as there are many private jet membership options out there that offer different amenities and rates. Fortunately, by knowing what to look for in a membership, you'll have a better picture of what makes the best options before you dive into just any available membership. At Jet Agency, we're here to help you find the best private jet membership program for you.
What Is a Private Jet Membership?
A private jet membership is a commitment that provides you special access to travel advantages compared to private jet charter. One of the most popular membership options is a Jet Card, which offers you access to discounted hourly rates based on how often you fly. Perks of a membership often include more direct access to flights, shorter notice for bookings, and more flexibility for your travel plans.
Private jet memberships are often the best choice for people who fly more than 200 hours a year and prefer greater flexibility and convenience over private jet charter.
What Makes for a Good Private Jet Membership?
For many, choosing a good membership means finding the lowest hourly rate. However, there is a lot more depth than just the upfront private jet membership cost. In your search for a private jet membership that will offer you the most value, you should consider the following so you find a membership you will love.
1. The Best Bang for Your Buck
The first thing you should always consider when looking for a membership is what will give you the best price for the best return– because cheaper isn't always better. What matter most is that you get the most value out of your membership. After all, it is always worth it to pay a little bit more for the peace of mind and convenience of things like exceptional customer service or guaranteed flight recovery.
When you look for a membership, you should compare prices against the amenities and advantages offered. For example, the following factors help provide you with more value out of your membership and are great benefits to weigh before deciding whether the rate is worth it:
A quick turnaround between booking and boarding
Accessible customer service
Fixed hourly rates over variable rates that fluctuate by the day or week
Access to your favorite aircraft
A strong safety reputation
Some programs, like the Jet Agency Hawker 800XP Membership, also offer discounts when you reserve longer flying periods, and discounts are always an excellent way to get the best bang for your buck.
2. No Hidden Fees
The last thing you want from a membership is to be told you are paying one price only to be caught off guard by additional fees and markups. Unfortunately, it happens all too often. When looking for a membership, it is crucial to read through the fine print and ensure that you don't pay more than you expect.
Many jet cards charge an hourly rate based on how much you fly. However, sneaky annual or initiation fees can add up to make your private jet membership cost more expensive than it needs to be. Other hidden fees include charges for unused hours, for memberships that operate based on a given number of hours, or 'repositioning fees' for flights outside of a company's typical operating range.
Make sure that you consider all possible fees and comb through the terms and conditions before committing to a membership. When you sign up for a Jet Card through Jet Agency, you can enjoy full membership benefits without any additional hidden fees or surprises.
3. Confidence in your Travel
You don't want to spend on a membership that you can only use for part of the year. Many airlines are adding more blackout dates around peak travel times, which means that your membership might not even be useful when you need it most.
Even worse, not every membership operator offers flight recovery if something prevents your original flight from taking off, so if something goes wrong, you are simply out of luck. When you become a member, you expect a sure thing every time you book. As a result, it is crucial that you know an operator's policies on these two points before signing up.
Fortunately, a jet card membership through Jet Agency offers both zero blackout dates and guaranteed flight recovery if something happens to your originally scheduled flight, so you can have full confidence that you will have access to a flight when you need it.
4. A Strong Safety Record
It is always exciting to find a membership that offers special amenities and conveniences, but these are never worth sacrificing your safety. If the company offering a membership does not have a strong reputation behind its safety record, it is not worth choosing them, no matter what else they say they offer. Fortunately, the best private jet membership programs offer total safety guarantees in addition to the conveniences.
When looking for a membership, you should choose only the most secure options by selecting an operator that follows the highest safety standards possible. A safe operator ensures that every aircraft is inspected in between every flight and maintains detailed safety records onboard.
As a passenger, you have a right to maintain peace of mind during every flight, so choose a membership that guarantees it.
5. The Ability To Meet Your Needs
The most important thing to look for in a private jet membership is that it fits your personalized needs.Do not settle for a membership that doesn't meet all of your travel preferences. Before you commit to one membership, you should consider questions like:
Does the company have a large enough fleet of aircraft that you are happy with?
Does the membership give you 24/7 access to customer service to meet your schedule?
Will the membership provide access to empty-leg flights if you enjoy spontaneous trips?
Does the membership offer fixed rates for easier budgeting?
In addition to questioning what the membership offers, make sure you know what you want to get out of it. For example, question how much you plan on traveling in the near future and what your travel aspirations are so that you choose an option that aligns with your travel vision.
Find the Perfect Membership with Jet Agency
When you search for a private jet membership, you have many options to consider, but they are all far from the same. In your search, look no further than Jet Agency's Jet Card Membership. As a Jet Card Member with Jet Agency, you receive full confidence in your travel, as we provide you with all of the membership benefits without the headaches.
Our members enjoy zero blackout dates, 24/7 customer service, and guaranteed flight recovery, all on top of the highest safety standards in the industry. Best of all, our Jet Card Membership maintains fixed hourly rates for every flight, so you never have to second guess your budgeting.
We also offer the Hawker 800XP Membership that provides you with direct access to a jet when you need it. Contact us today at (888) 509-3150, or email us at membership@jetagency.com to learn more about our membership options so you can see all the benefits for yourself. CURIOUS ABOUT JET AGENCY?
Please let us know a little bit about you, and one of our experienced membership directors will be in touch shortly to help personalize a membership for you.