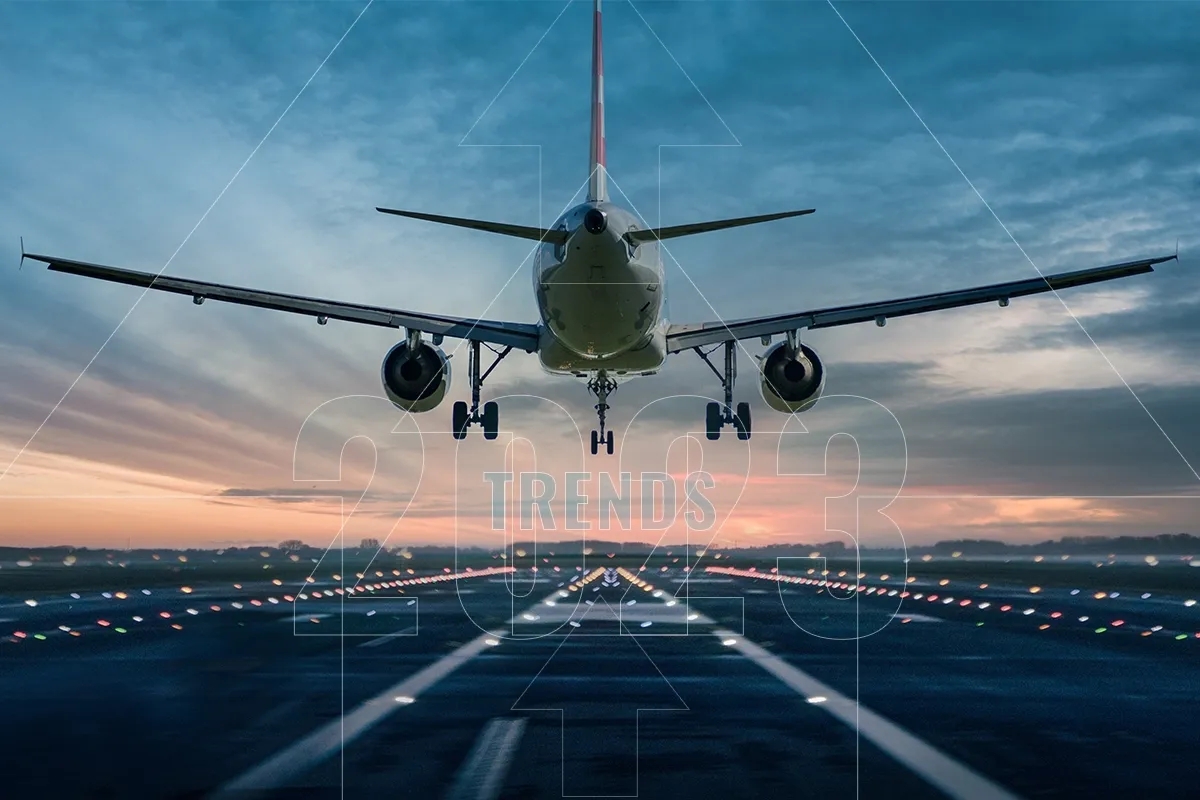 WHAT TO EXPECT FROM PRIVATE AVIATION TRENDS IN 2023
Written By Lance Tweden | 11.30.22
Private aviation has more than solidified its reputation as the most comfortable and convenient form of air travel over the past two years. With such a large embrace of private air travel, time can only tell what the rapidly growing industry will hold. In 2023, private aviation trends show that we can continue to expect popular demand but that the current market may influence how people decide to travel.
Key Trends to Watch for Private Aviation in 2023
The private aviation industry has grown incredibly over the past several years. The number of people who discovered the convenience of private jet travel has undoubtedly changed the industry for good. Private flight demand may have peaked in the past few years, but it is not likely to drop drastically either. The following are the biggest trends to watch for this coming year.
Steady Travel Demand
Since 2020, demand for private aviation has skyrocketed as travelers have sought more convenient travel options. The number of business flights per day has jumped considerably during this time, and numbers have reached their highest points within the past year. Of course, what goes up usually comes down, and now we are beginning to see that we may have passed the peak of private jet demand.
However, that doesn't mean that demand will plummet. Numbers from November 2022 show that business jet and prop activity is 2% behind the same time last year. Still, activity is 10% higher than in the same period in 2019, before travel demand plummeted. Even if private travel slows, it appears that demand will still hover closer to its peak than its low points.
Since travelers have seen just how much more convenient private jet travel is compared to commercial travel, they are likely not going back unless they absolutely have to. With steady interest in flights, we can also expect that new travelers will continue to find their way to private aviation, even if not as many as before.
Increased Private Jet Ownership
After the popularity of private jet travel spiked, many people experienced just how convenient private air travel is. With this realization, a large number of these people turned to purchasing their own private aircraft for total freedom.
Although demand for private jet travel seems to be falling slightly as the numbers level out, it appears that personally organized flights are stronger than ever. This fall, there was a drop off in private jet charter flights, down 9% compared to 2021. However, private flights were 19% higher than last year, and corporate flights were 5% above last year's mark.
With the current economy, private jet charter rates may fluctuate due to waves in demand and price changes. However, when you own an aircraft, you do not have to worry about as much fluctuation. Ownership is also much more convenient for travelers who fly over 400 hours per year, especially if they have a helping hand with managing the aircraft.
Owners Embracing Aircraft Management
With more people owning private jets, more people have had to figure out how to manage their aircraft and flight operations on a day-to-day basis. Plus, rising prices continue to affect everyone, from small families to large businesses, and the private aviation industry is no different. With rising costs of fuel and maintenance, jet owners will be looking for ways to save in 2023.
In November 2021, the price per barrel of jet fuel was just around $100. Then, in July of 2022, that price spiked to $175 before dropping slightly to around $135 in November 2022. Although jet fuel prices dropped from that staggering summer peak, they do not appear as if they will go much lower than the current November costs, which are still well above last year's prices. This increase follows a common trend, as prices have been steadily rising for years.
Working with an aircraft management company is an excellent way to save money while taking care of the many tasks that come with owning an aircraft. A trusted aircraft management company gives you access to flight staff, aircraft storage, and certification, but it also brings lower rates. Management companies often have exclusive discounts on fuel and maintenance. All in all, aircraft owners have plenty of reasons to embrace aircraft management companies this year.
Transition to Private Jet Membership
With steady demand for private jets, the competition to reserve an aircraft for the right time and place can be steep. As a result, more and more private jet travelers are turning to memberships to ensure their travel plans are guaranteed.
However, private jet members enjoy direct, priority access to their preferred size or model of private jet. For example, with the Jet Agency Jet Card Membership, members can choose a tier that best fits their specific travel needs. The membership also provides its members with access to a discounted hourly rate as well as additional perks like catering allowances or occasional jet class upgrades.
As more people seek chances to save in the current economy, a private jet membership is an excellent choice. Although an economic downturn could affect private jet prices, a membership gives you access to secure rates. After all, who doesn't want to save money and access more amenities at the same time?
Start the Year Fresh with Jet Agency
Current trends for private aviation show that the industry will remain popular, but more people may be looking to save money where possible. One thing is for sure-private aviation will continue to be the most convenient, most accessible, and most comfortable way to travel. If you want to get ahead of the trends and start booking your 2023 private flights, Jet Agency is here to help you.
Become a member of Jet Agency today – as a member, you gain exclusive access to the aircraft tier of your choice and elite customer service. We also follow the highest safety standards in the industry, so you can trust that you are in good hands from takeoff to touchdown. Contact us today to learn more about upcoming private aviation news and trends and discover how to have your next flight take place with Jet Agency. CURIOUS ABOUT JET AGENCY?
Please let us know a little bit about you, and one of our experienced membership directors will be in touch shortly to help personalize a membership for you.