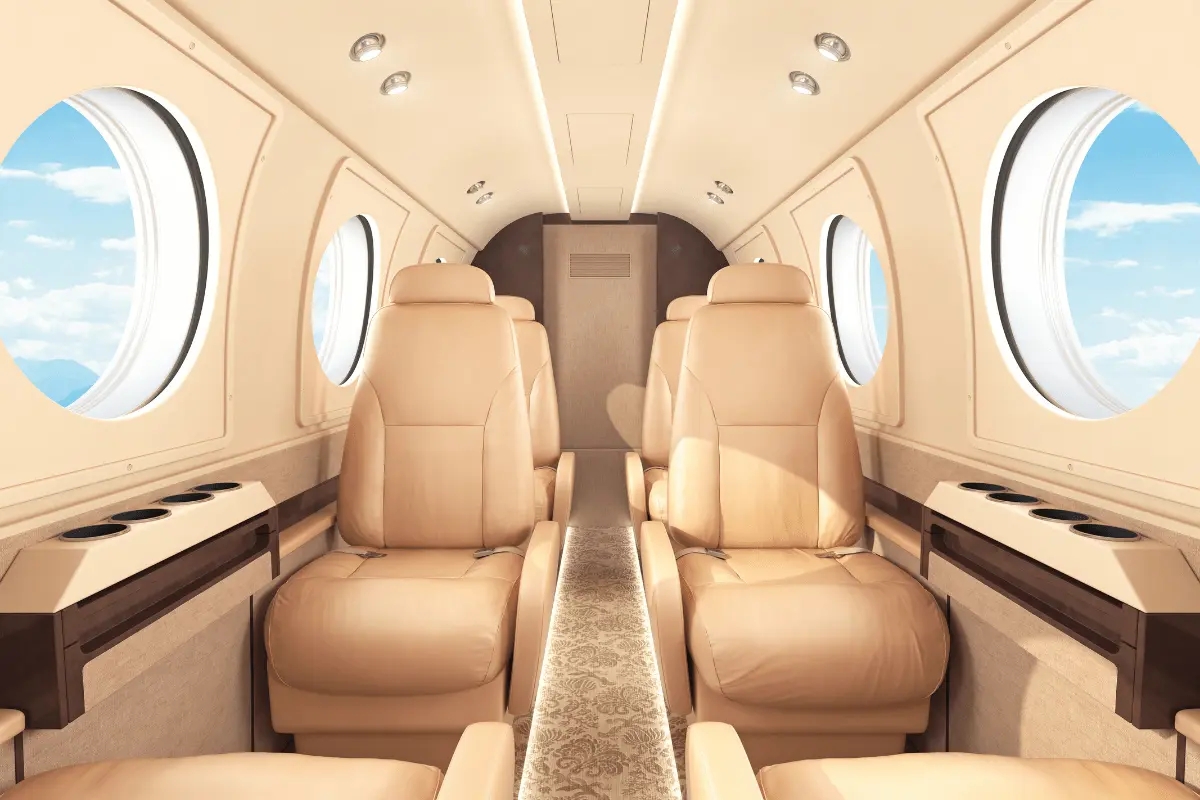 WHAT TO EXPECT FROM FLYING ON A PRIVATE JET
Written By Lance Tweden | 01.26.22
Flying private is a unique experience that has little in common with commercial air travel. You can customize private jet travel down to the last detail. The advantages are enormous. Here is a synopsis of what you can expect:
The Ultimate in Convenience
Private jet travel is like owning your own plane without having to purchase, park or maintain it. You can schedule a trip at the drop of a hat. In most cases, you can be en route to your destination within hours.
You can depart from any airport you wish. When you land, our 24/7 concierge service can have ground transportation ready and waiting to whisk you off to your next destination.
Onboard Privacy
The only other passengers on a private jet are those you have personally asked to join you. You and your guests can relax and interact freely without being overheard or disturbing other passengers.
Improved Productivity
Even in first class, trying to work while traveling on a bustling commercial airliner can be distracting, cramped and downright uncomfortable. After you finally get settled and focused, the flight attendant wants to know if you need a drink.
On a private flight, you can expect some peace and quiet. No one will disturb you. You will have plenty of room to spread out, and with zero distractions, you can focus on the tasks at hand.
Plush Accommodations
An elegant and well-appointed cabin nurtures the soul, soothes the senses and promotes healing. In short, it makes you feel better. Private jet interiors are posh for a reason. The atmosphere is designed to restore your spirit and recharge your battery.
Upon arrival at your destination, you will feel refreshed and relaxed instead of stressed, tired and burned out after the unpleasant ordeal of surviving a commercial flight.
True Affordability
The dollar savings of flying commercial compared to flying private can be significant. Nevertheless, you can also get dollar savings when flying private that aren't available to those who are flying commercial.
For instance, a private jet that seats seven passengers can work out to a very affordable $170 ticket price per person.
Additionally, you can charter empty leg flights for up to 75 percent off. These flights are negotiable, and they can be a bargain option for last-minute travel.
On the downside, empty legs are one-way-only flights and subject to change. Routes are limited.
Customized Travel Experience
The most compelling reason to fly private may be the freedom it offers to travel your way. Everything you value in a travel experience is readily available.
On a private jet business trip with colleagues, you might want a roomy conference area and plenty of room to spread out. On a fun getaway with a few pals, you might want entertainment and your favorite snacks.
With access to over 6,000 turboprops, executive jets and airlines, you can choose a different make and model on every flight. You can order up a jet and outfit it with all your must-have components. If you can imagine it, it is probably an option.
Create Your Ideal Itinerary
With private flights, you can create your own itinerary and set your own schedule. You do not need a ticket.
Instead, you will receive an email from the charter company confirming your desired itinerary. The email will include information about the flight crew and the pilot.
The only consideration is that it generally takes up to three hours to prepare a plane for liftoff. The soonest you might be airborne is in just over an hour. However, it is the exception rather than the rule.
Fewer Hours in the Air
Private jets are faster than commercial flights. They can depart from almost any airport. It is most cost-effective to fly out of smaller airports that are not major hubs.
Private planes have access to general aviation airports where only private planes fly. In that case, you can choose an airport close to home.
Because private jets are smaller, they can get airborne faster. Private planes fly higher than commercial planes, too, and that reduces delays caused by air traffic and bad weather.
No Congested Airports
When you fly private, you will be spared the aggravation of crowded airports, flight delays, long lines, long wait times and flight cancellations. Instead, you can move quickly through the terminal to the cabin and depart shortly thereafter.
Exceptional Jet Flight Safety Profile
Private jets must comply with the same safety regulations as commercial flights, and they are just as safe. The fleet must be properly maintained, and the pilots must possess a high degree of expertise and familiarity with the planes they fly. The jets do not have piston engines.
Charter companies carefully vet flight crews and staff to ensure that travelers receive the best possible service. Unlike flying commercial, you will not have to share a cabin with unruly, aggressive and potentially dangerous passengers.
ARGUS is an independent rating system for private jet charter companies. It helps those companies to comply with internationally recognized safety standards.
ARGUS-rated air charter companies have demonstrated successful implementation of the best safety practices in the aviation industry. Non-invasive Security Protocol Although private jet passengers must still pass through security, they are not required to separate liquids or remove their shoes.
General regulations about transporting liquid do not apply to private charter jets. All of that keeps things moving at a brisk clip. Passengers are searched at the terminal prior to boarding the flight.
Under TSA regulations, passengers on private jets must undergo normal airport security protocols if the total number of passengers exceeds 61. Light private jets with eight or fewer passengers are exempt.
No Baggage Weight Restrictions
Passengers in private planes are not subject to baggage weight limitations. Nevertheless, because passengers must stow baggage in the cabin, the size of the craft will determine the amount of baggage that can be transported.
Travel With Your Pets
Pets are welcome on private jets and are not required to travel in the cargo area. The animals must be up to date with all required vaccinations. Documentation may be required.
Land Where You Like
Private charter jets can land at any airport in the U.S. Be sure to indicate your preferred landing airport to a customer service expert when you schedule your trip.
Enjoy In-flight Wi-Fi
Many busy travelers find that private flights offer a rare opportunity to work without constant interruptions and distractions. Many jets are Wi-Fi-equipped, and they are available upon request.
The FCC requires all electronics to be in airplane mode during the flight, especially during takeoff and landing. Electronic devices can disrupt and interfere with the plane's navigational systems.
However, the FAA holds that electronics can be turned on while a jet is in the air as long as the flight crew approves it. Haute Cuisine and Tasty Snacks Unlike commercial airline food, flying private affords you an infinity of options to prevent hunger from spoiling your travel experience.
Private flight passengers can order anything from a 7-course gourmet meal complete with escargot appetizer to homemade chicken noodle soup and hot pastrami sandwiches from your favorite delicatessen.
On shorter flights, many passengers opt for lighter fare. Whether you are craving a veggie and cheese plate or a gooey cheeseburger with fries, we will ensure that it is ready and waiting when you board the plane.
There may be limitations on custom restaurant orders if they cannot be properly packaged for safety or cannot be reheated on the jet without compromising their quality.
Most private flight companies ask that you refrain from ordering foods with a cloying or pungent odor. The smell can pervade the cabin for the remainder of the flight. Additionally, foods that are prone to drip or splatter are best enjoyed on the ground.
You are responsible for the cost of the food and the expenses incurred for delivery.
Bathroom Options
Toilet facilities will depend on the plane. Very light jets that are in the air for under two hours don't typically have toilets. If a toilet is a must, you can get what is basically a potty behind a curtain.
Passengers are advised to use the facilities at the airport just prior to takeoff to prevent in-flight bathroom emergencies.
Smaller jets might have a toilet behind a sliding panel or an enclosed toilet like those on commercial airliners, but smaller. Should you book a larger jet with more cabin space, onboard toilet facilities can be as lavish or as sparse as you wish.
Cushy Seating
Commercial airliners are cramped at best and intolerable at worst. Private jets offer the ultimate in luxurious comfort. You will experience expanded legroom and more reclining space than first-class commercial flights can ever hope to offer.
Most private jets seat fewer than 10 passengers, so there is more space per person. That includes plenty of room for your stuff, too. Larger jets might be equipped with plush sofas or even real beds for the ultimate in relaxing airborne slumber.
Using proprietary software, we can quickly obtain lower quotes than the competition. Call us now to learn more about pricing, and check out the benefits of our Jet Card Membership and Private Jet Membership programs. CURIOUS ABOUT JET AGENCY?
Please let us know a little bit about you, and one of our experienced membership directors will be in touch shortly to help personalize a membership for you.