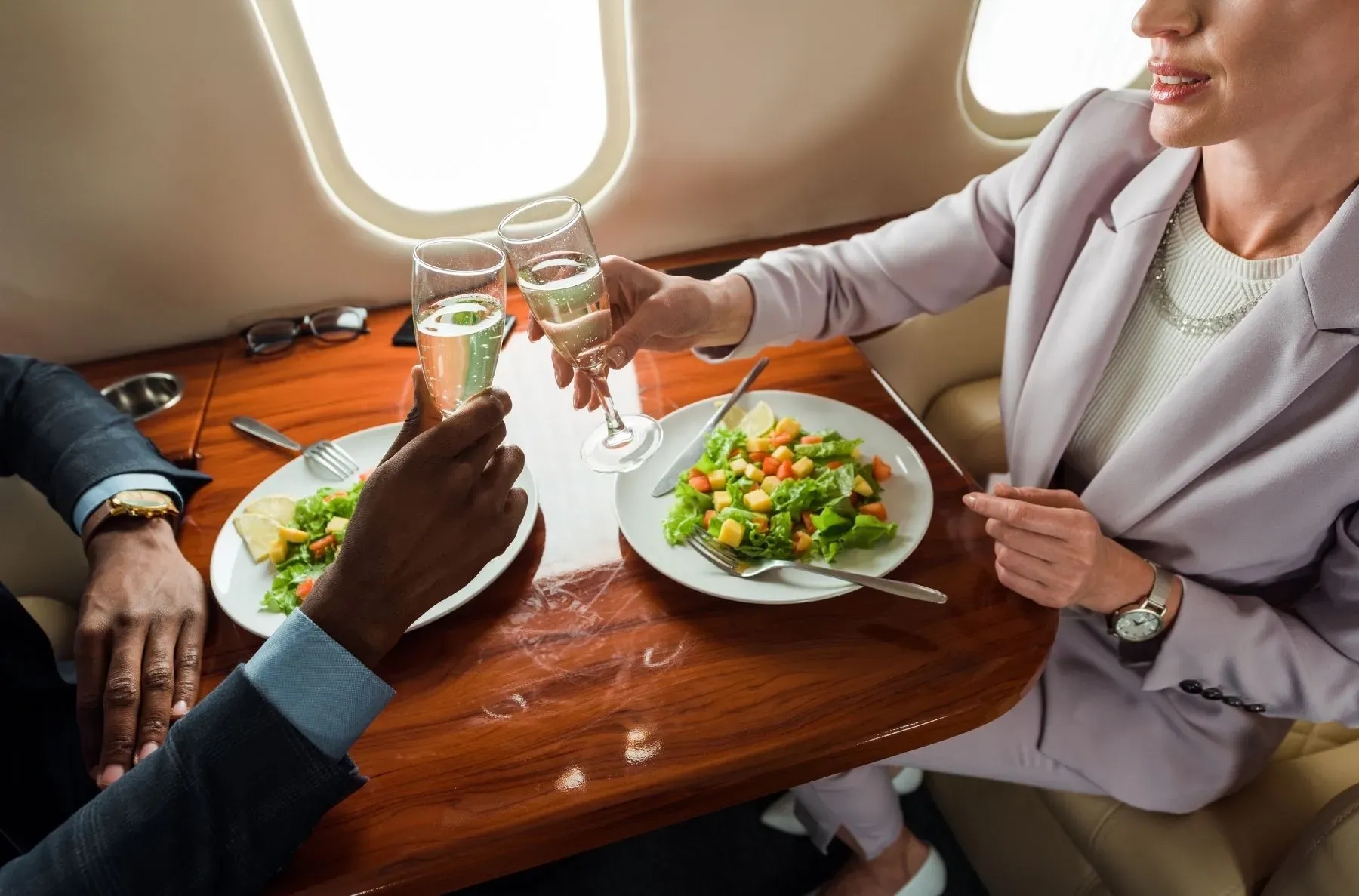 WHAT FOOD CATERING IS AVAILABLE ON A PRIVATE JET?
Written By Lance Tweden | 10.05.21
When flying on a private jet, you get to make all the decisions from start to finish. From the moment you begin arranging your private jet travels, the choice is all yours. Not only do you get to decide where you want to fly and when, but you can choose the exact make and model of aircraft you take to the skies on your next adventure. The choices do not stop there, though. You can personally tailor your private jet experience to your specific preferences, and that includes what you want to eat and drink while traveling to your destination.
In fact, the private jet catering options available aboard your aircraft are easily one of the top benefits of private travel. Are you craving a burger from your favorite fast-food chain? Or are you in the mood for an elaborate five-course meal? Or what about ordering a bottle of the finest Champagne so that you can toast in the sky? Whatever you want to dine on and drink during your travels, allow us to take care of every last detail. Whether you want something specific or for the in-flight chefs to surprise you, anything is possible when it comes to private jet meals.
Ready to get a taste of what you can expect on your next private flight? In this guide, we outline just a few of the many private jet food options available when you fly private with Jet Agency.
Catering Options
When you fly private, you might want to go all out, requesting an extravagant meal from that Michelin-star restaurant that just opened in NYC. Alternatively, maybe when you jet-set, you find yourself craving comfort food like the chicken pot pie from the bakery just down the street or a slice of pizza from the local pizza joint.
In the same vein, you can also pre-order outside beverages. Do you prefer to drink a certain brand of coffee? Your flight crew will stock the galley with your preferred beans. Or what about sipping on some barrel-aged whiskey from the finest distillery on the East Coast? Let us know the exact make, and we will have it waiting for you upon your arrival.
As you can see, the sky's the limit when it comes to private jet food catering. The only catch is that you must tell us your catering preferences in advance of your flight so that we can accommodate your requests.
Special Requests
Fulfilling your private jet food special requests is our number one priority. Aside from taking care of outside catering requests, your in-flight chefs can also prepare whatever you desire. Caviar and a side of bubbly? No problem. Salad with smoked salmon? Consider it done. Chocolate lava cake with strawberries on top? It is already on its way to your table. From light fare to full-course meals, your in-flight chefs will surprise and delight you with their culinary skills catered to all your preferences.
We also take your dietary requirements seriously. Whether you have allergies, aversions, or religious restrictions, we take the utmost care to ensure your meals will not include any of your off-limit ingredients. Your in-flight chefs excel at creating masterpieces that align with your specifications, from keto to vegan. But just like requesting catering options, it is important to tell your flight crew if you have any restrictions or special requests in advance.
Pre-set Menus
Maybe you are too busy to even think about eating to make special dining requests in advance. Or perhaps you simply forgot to arrange your in-flight meals before your flight. If that is the case, do not worry, you will not go hungry. Every private jet is stocked with delicious meals, snacks, and beverages.
If you are on a smaller jet for just a short jaunt across the state, you may find that only light fare is available (unless otherwise requested) due to the size of the galley and the duration of the flight. Your options might include delicious cold meat and cheese spreads and elaborate fruit platters. However, if you are on a longer journey in a bigger aircraft, you will likely be spoiled for choice. The larger jets have more galley space to whip up (or heat up) full gourmet meals, from filet mignon to your favorite fish. The in-flight chefs are prestigious, highly-trained culinary artists who take great pride in crafting an in-flight menu that is second to none.
Book Your Private Flight Today
If your mouth is already watering simply thinking about the decadent private jet food options, then it is time to reserve your own private jet for your upcoming travels right here with Jet Agency.
As you are booking your flight, request your favorite meal or leave it up to the in-flight chefs to work their magic. Whichever route you take, you will not be disappointed when it comes to the private jet meals onboard your aircraft. While you are reserving your aircraft with us, also be sure to explore our elite Jet Card membership options. As a loyalty member, you can earn free jet upgrades and even complimentary catering allowances. Join today and get ready to feast like a king or queen on your next private flight. CURIOUS ABOUT JET AGENCY?
Please let us know a little bit about you, and one of our experienced membership directors will be in touch shortly to help personalize a membership for you.