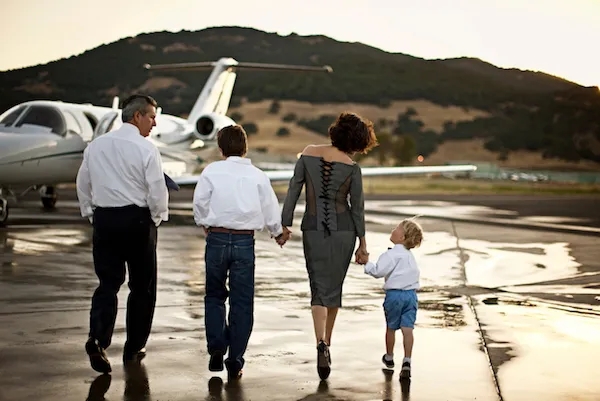 THE FIVE BEST PRIVATE JETS FOR FAMILY TRAVEL
Written By Lance Tweden | 06.15.22
Traveling with family is often rewarding but can offer a unique set of challenges. On your next family trip, flying private can provide you with much more convenience and peace of mind than commercial airlines. Choosing the best private plane for a family trip can transform your travel experience. Next time you travel on a family trip, consider the great options you have.
The Top Five Best Private Planes for a Family
When flying with your family, a small jet is not going to cut it, especially during long flights. It is crucial to have a jet that maximizes space and comfort to ensure that the whole family stays comfortable and satisfied throughout the whole course of travel. The following jets do all of that and more. These are some of the best private planes for a family of 5.
1. Embraer Praetor 600
This is one of the best 8 seater private jets you can choose from. The cabin is almost seven feet wide and is 27 feet long, meaning the whole family will have plenty of room to stretch their legs. Not to mention that this jet is also one of the fastest in its class, making any journey feel shorter. With up to 4000 nautical miles in range, the Praetor 600 is great for cross-country trips.
2. Bombardier Challenger 650
Seating up to 12 passengers, the Challenger 650 is enough for everyone in the family to feel comfortable. The cabin is almost eight feet wide and designed with signature trim, foldout tables and high-class materials for total satisfaction. The Challenger is complete with available high-speed internet connectivity so everyone can stay entertained throughout the trip.
3. Dassault Falcon 2000EX
The Falcon 2000EX provides plenty of space for the whole family and more, seating up to 10 passengers with comfortable, classy fabrics. The Falcon 2000EX is designed to provide extra comfort with an extra-wide cabin and over six feet of headroom. However, its relatively small size still allows you to land at shorter runways. The aerodynamic design of the wings presents superior stability and efficiency, reducing operation costs and setting the 2000EX apart from the rest.
4. Gulfstream G280
The G280 is perfect for a family of five, seating up to 10 passengers and sleeping up to five. Featuring up to two living spaces, a low cabin altitude and prime materials lining the interior, the G280 maximizes comfort for everyone aboard. Reaching a range of 3,600 nautical miles and a cruising speed of 644 mph, this jet does it all, making any journey seem small.
5. Embraer Phenom 300E
This light jet seats between 6-10 passengers. With a uniquely quiet cabin, considerable cabin space and a revolutionary interior design, this jet sets itself apart from the rest in its class. The Phenom 300E also comes equipped with notable safety features, like runway approach warnings, providing added peace of mind for the family on board.
Benefits of Flying Private with Family
Traveling with family can be stressful. Trying to coordinate travel plans with multiple people provides several challenges, like ensuring that everyone is ready to go on time, rushing everyone through security and worrying that children will behave throughout the airport and on the plane.
Fortunately, flying private can alleviate these problems. By booking a private jet charter, you and the family can bypass TSA security lines altogether, instead traveling through a separate security checkpoint through the flight-based operator.
Additionally, you do not have to worry about anyone in the family holding back the itinerary. When booking a private jet, you can determine the schedule of the flight on terms that work for you and do not have to stress about meeting a flight schedule set by a commercial airline.
Traveling with young children can often lead to looks from other passengers if the children are overactive or excited on a flight. When you fly private, your family is the only group on the aircraft, meaning that you can enjoy your flight and tend to your children without feeling judged by others.
Schedule Your Family Private Flight Today
For more information about traveling via private jet charter with your family, contact Jet Agency. We provide you the option of choosing from various jet models so you can choose the best private jet for your family. In addition, we work as hard as possible to provide a comprehensive flight experience and ensure the safety of everyone on board with extensive safety measures. Contact us today to schedule your next family trip. CURIOUS ABOUT JET AGENCY?
Please let us know a little bit about you, and one of our experienced membership directors will be in touch shortly to help personalize a membership for you.