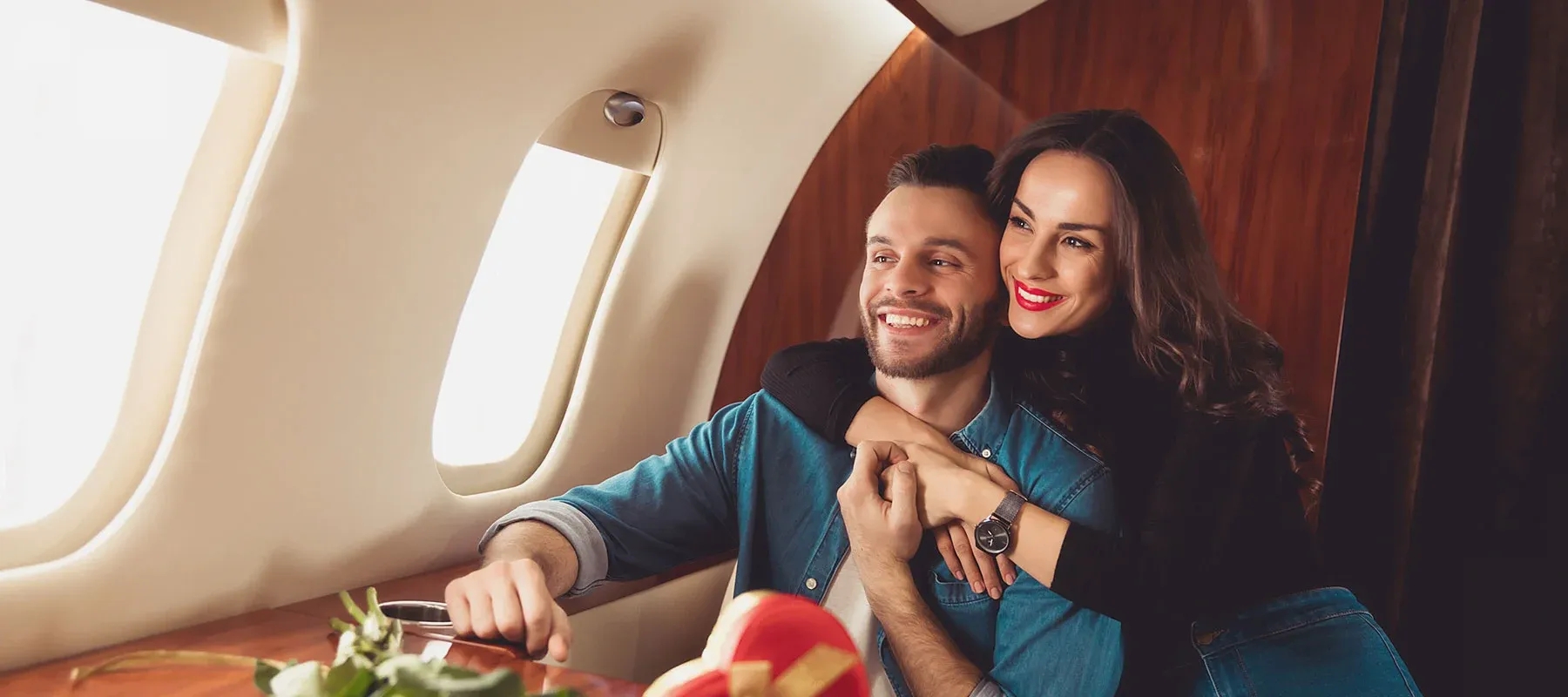 THE BEST VALENTINE'S DESTINATIONS TO USE YOUR JET CARD ON
Written By Lance Tweden | 01.25.23
Valentine's Day is your chance to make an impression on your loved one that lasts all year, if not longer. Fortunately, private Jet Card members have one of the most powerful tools capable of making lasting memories.
Having a Jet Card means accessing seamless, personalized travel to the best destinations completely on your terms-all that matters is knowing where you want to go. Impress your loved one this Valentine's Day by using a Jet Card to schedule a private getaway to one of the most romantic destinations.
The Most Romantic Valentine's Getaways
Imagine the peace and comfort of flying on a world-class aircraft with your loved one while on the way to your ideal Valentine's destination. A Jet Card makes this vision possible, providing you access to an aircraft that fits your personalized needs and the ability to book your travel when you want. With full control over your travel, choosing your destination is your only concern. The following are some of the best Valentine's getaways you can use your Jet Card for.
1. New York City, New York
The center of so many romantic comedies, it is no surprise that New York City is an excellent choice for your romantic private getaway. A Broadway show, a carriage ride through central park, a venture through the New York Botanical Gardens-there are so many ways to craft a date night your loved one will never forget.
The city is full of elite hotels and restaurants that will truly allow you to make your Valentine's Day one to remember. Just be sure to make your reservations early, as these places are popular. Fortunately, there are so many excellent options in the city that you have plenty of opportunities to find a booking.
2. Vail, Colorado
Take in Valentine's Day from the unparalleled majesty of the Colorado Rocky Mountains, in the skiing and snowboarding paradise that is Vail, Colorado. Even if skiing and snowboarding aren't your first choice for activities, there is always plenty to do here, including sleigh rides, ice skating, scenic gondola rides and more.
The charm of the cozy village makes the experience even better, as it is full of upscale amenities and accommodations. After all, there are few better ways to spend Valentine's Day than bundled up with a hot chocolate while enjoying one of the many events. Vail also offers high-end dining, exciting nightlife, reinvigorating spas and an excellent arts culture.
3. Las Vegas, Nevada
Although it has a reputation as a bachelor's getaway, Las Vegas is an excellent Valentine's Day destination for couples. The city has plenty to offer for lovers, as it is full of exhilarating nightlife, unique entertainment, and fine-dining opportunities. Catch one of the multiple Cirque du Soleil shows before heading over to some of the country's best restaurants for the perfect date night.
Plus, little is more romantic than a five-star hotel overlooking the bright lights of the Las Vegas strip. If you're feeling really adventurous, you can plan a drive-thru wedding and seal in the experience. However, you do not need to go that far to enjoy your romantic private getaway in Vegas.
4. Los Cabos, Mexico
Spend your Valentine's Day getaway at a five-star resort steps away from some of the world's most beautiful beaches. Los Cabos features diverse areas that allow you to look out over the crystal blue ocean water from the coastline or explore the stunning mountain range nearby.
There are few better ways to bond with your loved one than by taking on new adventures and exploring breathtaking new scenery together. ATV rides through the desert, boat tours, even world-class scuba diving, you name it. At the end of the day, you can enjoy a meal from one of the renowned restaurants before either refreshing in one of the many spas or venturing into the unique nightlife.
5. Lake Tahoe, California
If enjoying the outdoors is your favorite couple's activity, then a private getaway to Lake Tahoe is an excellent way to spend quality time together. This underrated travel destination has everything you could want, from breathtaking scenery to cozy accommodations and amenities. There is no shortage of outdoor activities, so you can spend the day skiing or snowboarding down the scenic slopes with your loved one or enjoy the classic appeal of ice skating.
When the day comes to an end, you can craft a refreshing date night itinerary, as the town features multiple restaurants, breweries, and enjoyable nightlife. Then, top the experience off by staying at one of the five-star resorts that offer a revitalizing spa, heated pools overlooking the mountains and high-class amenities.
6. The Bahamas
The Bahamas is an excellent choice for couples in search of a warmer Valentine's destination. Soak in the sun rays together on some of the world's most serene beaches and take a stroll through some of the crystal clear waters. With 16 unique islands and 100,000 square miles of incredible land, there are plenty of memories to be made with your loved one on a private getaway.
The Bahamas offers many bonding activities, like diving, dolphin swimming and ecotourism, that set this island paradise apart from other destinations. There are also a ton of sights to see. From the elbow reef lighthouse to the iconic pineapple farm, there are so many ways for you and your loved one to create an unforgettable experience. Wrap up the day at one of the many fine-dining establishments before resting in your resort.
7. Savannah, Georgia
Savannah may not be your first choice for a romantic getaway, but that's only because you don't know enough about it. Savannah is the perfect option if you are looking for a quieter getaway with your sweetheart that still offers plenty to do. Located on the coast of the Atlantic Ocean, Savannah features pleasant beaches and a unique charm, and it is often considered one of the most beautiful cities in the southern United States.
Spend some time walking past the historic architecture, strolling through the beautiful Forsyth Park, and exploring all the unique local art shops. Don't forget to stop by a few of the city's award-winning restaurants too. Finally, you can round out your trip by staying at one of the historic inns or high-class accommodations to make it one to remember.
Book the Perfect Romantic Private Getaway
When looking for the perfect Valentine's destination by private jet, there is no shortage of options. Whether you decide on one of the romantic destinations above or have a different idea in mind, Jet Agency is here to help. After all, dreaming of the best Valentine's getaways is easy, but how you get there makes all the difference.
When you sign up for a Jet Card through Jet Agency, you enjoy total convenience and confidence in your travel. We provide direct access to the aircraft of your choice and guaranteed flight recovery in case something goes wrong. Plus, with industry-low, fixed hourly rates and zero membership fees, there is never any second guessing or surprises. Contact us today to learn more about our membership options and how a Jet Card can transform your travel experience. CURIOUS ABOUT JET AGENCY?
Please let us know a little bit about you, and one of our experienced membership directors will be in touch shortly to help personalize a membership for you.