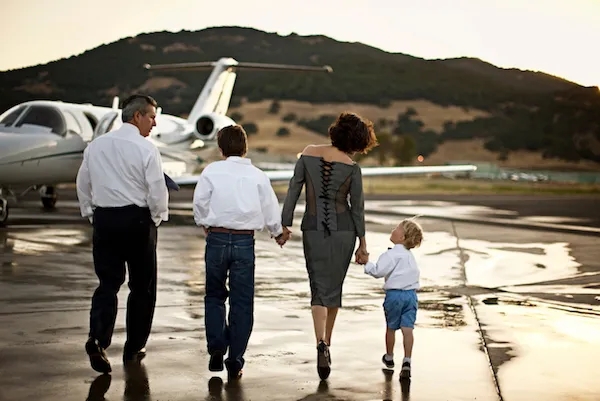 THE 5 BEST PRIVATE JETS FOR FIRST-TIME BUYERS
Written By Lance Tweden | 02.15.23
Buying a private jet is like diving into a vast ocean of possibilities. When you are a first-time buyer, it can be intimidating and makes it difficult to narrow down the right choice. Fortunately, a spotlight on some of the many options can help provide some clarity to make the process easier and show you the best of the best. The Best Entry-Level Private Jets You have many options in your search for a private jet, from very light jets to heavy jets. All you need to do is determine your needs and preferences. Once you do, the following all make for great reliable entry-level choices.
1. Cirrus Vision Jet
If you are interested in a small, reliable private jet, then the Cirrus Vision Jet is perfect. Despite its small size, this very light jet still has plenty to offer, including a spacious cabin for six passengers, an in-flight entertainment system and multiple safety technology systems.
The Cirrus Vision Jet is also one of the most affordable private jets, with a purchase price of around $2-3 million, making it the perfect entry-level jet.
2. Cessna Citation CJ3
For another effective yet affordable private jet, first-time buyers can turn to the Cessna Citation CJ3. At a price of around $6 million, the Citation CJ3 is more affordable than most others in its class. This light jet is as capable as it is cost-effective as it can travel around 1,200 nautical miles and hold up to 8 passengers, allowing for comfortable commuting.
Cessna is one of the most experienced manufacturers in the private aviation industry and has an entire family of private jets to explore. With everything from very light jets to super midsize jets, it's easy to find an option that fits your needs. 3. Beechcraft Hawker 800XP The Beechcraft Hawker family includes an excellent lineup of private jets, so you can't go wrong with any of their options. If you are in the market for a midsize jet, the Hawker 800XP can provide outstanding comfort and versatility as a first purchase.
This jet can carry up to 8 passengers in a luxuriously crafted and spacious cabin. With a range of 2,500 nautical miles, it is perfect for medium-range personal or business trips. You can enjoy it all at a remarkably affordable starting price of around $1.5 million.
4. Bombardier Challenger 350
The Bombardier Challenger 350 is one of the best-selling business jets in the world. Bombardier is well-known for its origins in manufacturing defense aircraft and has maintained a strong reputation by manufacturing some of the most technologically equipped and highest-performing aircraft in the industry today.
This super-midsize jet is no exception. The Challenger 350 features a range of 3,100 nautical miles and a top speed of around 620 mph. For other options, explore the rest of the Bombardier Challenger family or the Global series.
5. Gulfstream G400
For a long-range heavy jet that can hold an entire business team, look no further than the Gulfstream G400. The Gulfstream G400 features the largest cabin in its class, holding up to 12 passengers, while boasting a range of 4,200 nm and a top speed of around 690 mph. You can find this heavy jet for about $33 million.
Gulfstream has decades of producing remarkable aircraft under its belt. If you intend to go all-in on your first private jet, you can turn to the latest Gulfstream G700 for the most spacious cabin in private aviation. Or, for a serviceable aircraft without maxing out your budget, the Gulfstream G-IV is a classic, affordable jet at around $7 million. What First-Time Private Jet Buyers Need To Consider A private jet is one of the largest purchases you can make, so there is a whole checklist of items to consider. As you search for an entry-level private jet, you should consult an aviation acquisitions expert and a lawyer to ensure you purchase a reliable, compliant plane. Your purchasing process should also include a professional inspection and a full vetting of the aircraft records.
Before purchasing a plane, remember that private jet ownership entails much more than the initial cost of the aircraft. After you budget for the initial cost, you need to budget for the yearly ownership fees, including the cost of fuel, finding pilots and maintenance. Annually, you may spend around $300,000 to a few million to operate and maintain your aircraft.
Lastly, you need a plan for handling all the tasks associated with ownership, like storage, staffing, maintenance and more. You can decide to take on these tasks on your own or work with a reliable aircraft management company for additional support and expertise.
Carve Your Path Alongside a Reliable Partner
You have a wealth of possibilities in the search for an affordable, entry-level private jet. At Jet Agency, we are happy to support first-time private jet buyers. Not only do we provide reliable private jet charter operation, but we also offer a long list of aircraft management services to give you peace of mind in operating and maintaining your private jet.
With a long track record of experience and the highest safety standards in the industry, you can trust us to handle your aircraft properly. Contact us today to learn more. CURIOUS ABOUT JET AGENCY?
Please let us know a little bit about you, and one of our experienced membership directors will be in touch shortly to help personalize a membership for you.