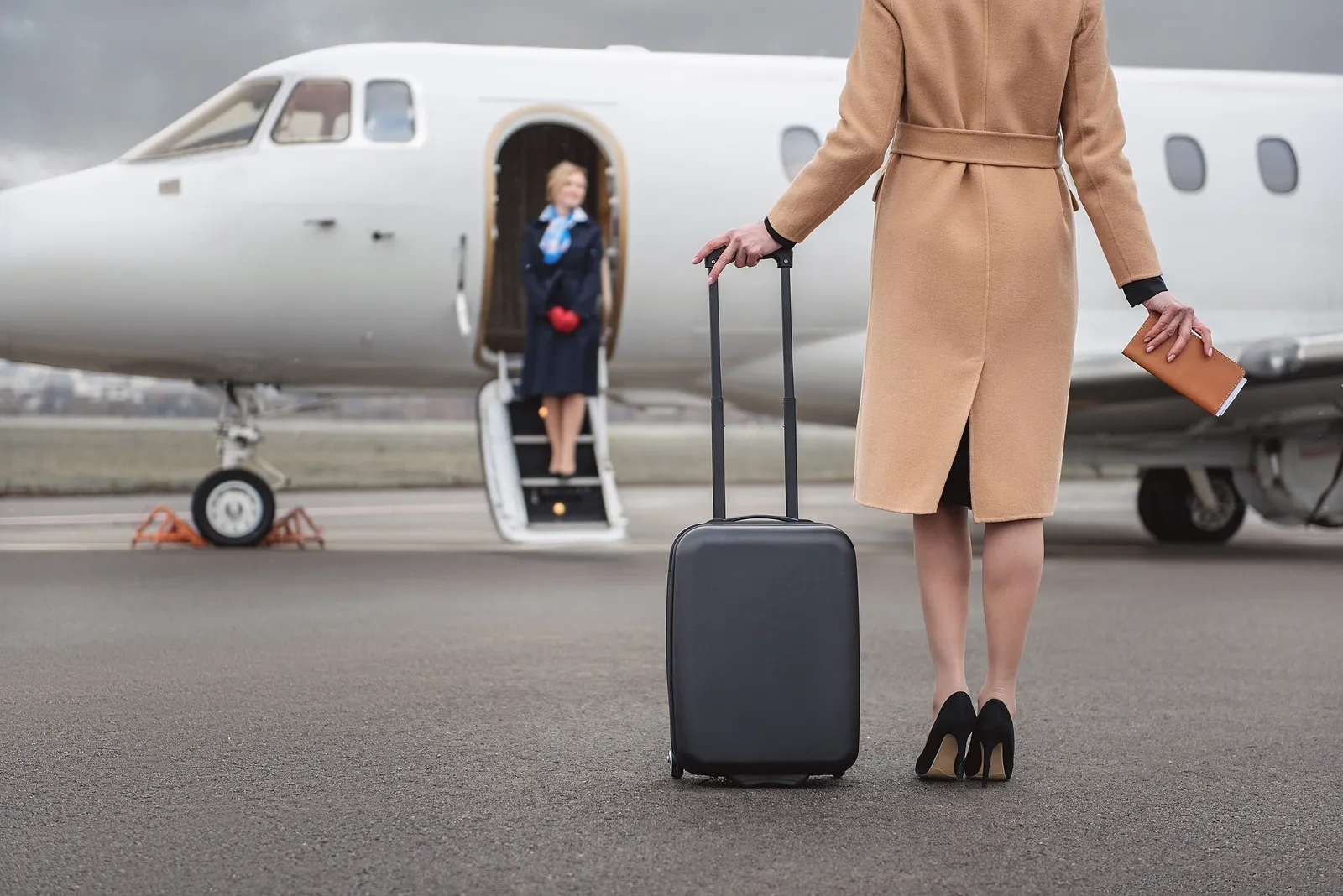 HOW MUCH LUGGAGE CAN I BRING ON A PRIVATE FLIGHT?
Written By Lance Tweden | 06.07.21
Regardless of whether you consider yourself a 'light packer' or 'over-packer,' it is important to be mindful of private jet luggage limitations before heading to the airport. For instance, If you are planning a short weekend jaunt to the coast, you may not require a lot of luggage space, but if you are booking a two-week ski trip in the mountains, you will need more room for your ski equipment and bulky snow gear. The specific kind of private jet you choose will ultimately determine how much space you can access.
After all, each jet charter has its own private jet luggage capacity depending on the size, shape, make, and model of the aircraft. Some private jets only offer internal luggage space, while others have both internal and external luggage compartments. Keep in mind, the particular private jet company may also have its own set of luggage limitations as well.
With that said, most private jet charters permit at least one piece of luggage around 50 lbs and one carry-on item on the smaller jets. However, the bigger the jet, the more freedom you may have when it comes to luggage allocations.
Because there are so many variations around baggage capacity, we are here to help make sense of the sizing and space around luggage on private jets. We have listed out some of the private jet luggage capacities you can expect on aircraft of different sizes. Follow our guide so that you are better prepared when packing for your next private jet travels.
Small Jets
Light and very light jets are the smallest aircraft on the market. Given their compact shape and size, you will likely experience stricter luggage limitations, generally one piece of luggage per passenger, especially if it is a full flight. For reference, these small aircraft can usually accommodate four to eight passengers, so there is likely only enough room for a handful of pieces of luggage at any given time.
The Eclipse 500/550, an example of a very light jet, only has 26 cubic feet of luggage space, while the light jet Hawker 400XP has slightly more room with 53 cubic feet of space. If you are traveling light with a small suitcase or backpack, a small aircraft should be a fine choice, but if you have multiple suitcases, you may need to reserve a bigger jet.
Midsize Jets
Midsize jets are the next size up, and that means more space all around for both passengers and their luggage. Unlike their smaller counterparts, many midsize jets are big enough to include a lavatory on board and sometimes even an area for a flight crew.
The midsize Falcon 20/200 jet can fly nine passengers and provides 60 cubic feet of baggage space, while the Gulfstream G150, which can also carry up to nine passengers, features 80 cubic feet of space. This just goes to show how much these jets can vary in luggage allotments depending on the make and model. One thing to consider is that if your midsize jet is not completely full, you may be granted more luggage space for your belongings.
Large Jets
Larger aircraft like the heavy jets obviously have more luggage space. After all, many of these jets can comfortably fly 19 passengers or more. And more passengers mean more luggage space.
Take the Gulfstream G550, for example. It can accommodate anywhere from 8 to 19 passengers and features an impressive 226 cubic feet of luggage space. Better yet, the Lineage 1000 can carry 13 to 19 passengers with a whopping 471 cubic feet of baggage room. If you have a lot of luggage, this may be your best bet, particularly if the flight is not at a capacity.
When in doubt, do not hesitate to reach out to your private jet charter for luggage specifications, especially if you have multiple suitcases or bulky items. Whether you want to fly with your favorite golf clubs or an extra suitcase or two, your private charter will work with you to best accommodate your private jet luggage needs.
Book Your Private Charter Reservation Today
Now that you have a better idea of the guidelines regarding luggage on private jets, turn to us for your private charter reservations. Here at Jet Agency, we are 100% focused on you, providing you with a safe and flawless flight that goes above and beyond what you ever imagined from private air travel. We also offer programs that further bring your flight experience up a notch. Our elite Jet Card membership allows you to earn free jet upgrades and complimentary catering allowances, while our Fixed Route Program lets you lock in the cost of your frequently traveled routes. Choose Jet Agency today for unrivaled pedigree service. CURIOUS ABOUT JET AGENCY?
Please let us know a little bit about you, and one of our experienced membership directors will be in touch shortly to help personalize a membership for you.