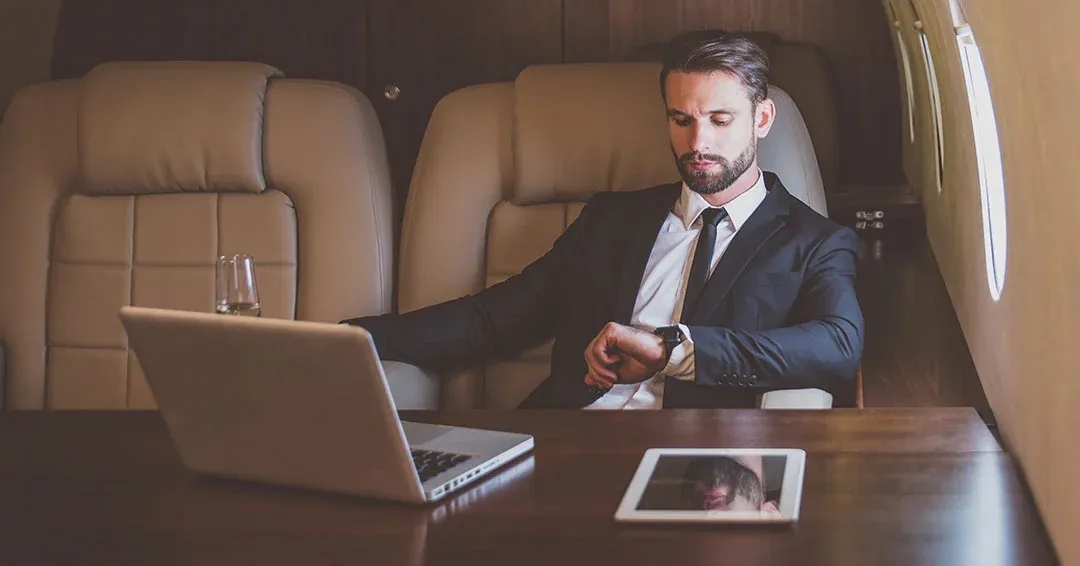 HOW JET CARD MEMBERSHIPS CREATE VALUE
Written By Dylan Anderson | 07.13.23
In today's globalized world, the demand for efficient and sophisticated travel solutions is increasing. One solution that has gained popularity among discerning travelers and businesses is the jet card membership. Jet card memberships offer flexibility, convenience, and superior service, making them the epitome of modern private aviation. Memberships offer travelers a unique value proposition to lock in pricing and ensure a seamless experience.
Jet Agency's memberships have set a new standard in the private aviation industry by offering a blend of luxury, convenience, and value. We have transformed the narrative of private air travel by offering access to more than 5,000 aircraft all with transparent pricing and no hidden fees.
A Primer on Jet Card Memberships
At its core, a jet card membership is an innovative approach to private aviation. It involves pre-purchasing a block of flight hours on a specified category of aircraft. This arrangement offers flexibility and convenience, allowing members to book flights as needed without the complexities of aircraft ownership or charter agreements. Jet card memberships simplify private air travel, providing a hassle-free, reliable, and quality experience.
Jet Agency's membership program revolutionizes private aviation by introducing a pay-by-the-hour system where members prepay for a certain number of hours in the air. And these hours can be used anytime and never expire. This innovative approach brings unmatched flexibility and predictability to private air travel.
With Jet Agency's membership, there are no membership fees or annual dues, simplifying the private jet experience. When you invest in a membership, you pay exclusively for your time in the air. The rate remains fixed even during peak flight times, ensuring you have access to more than 5,000 aircraft, even when demand is high. While providing this value, Jet Agency also prioritizes safety, conducting thorough inspections and maintaining the highest safety standards for every flight crew and plane.
Unveiling the Value of Jet Card Memberships
Predictable Pricing and Cost-Effectiveness
One significant advantage of Jet Card memberships is their predictable pricing structure. Unlike on-demand charter flights, which often have fluctuating costs, Jet Card memberships operate on fixed hourly rates. This clarity in pricing simplifies budgeting and allows members to plan their travel with greater financial transparency. This is particularly appealing to businesses and individuals who prioritize careful financial planning and effective cost management.
Jet Agency's memberships stand out for our pricing transparency. With fixed hourly rates based on the chosen jet type, there are no surprises or hidden fees. Regardless of fuel price fluctuations or potential flight delays, the cost of using a Jet Agency membership remains what it was before you took off. This approach brings cost-effectiveness to private air travel, as all prepaid funds go directly towards time in the air without any hidden fees. Our provides a stark contrast to the fluctuating prices commonly associated with on-demand charter flights or fee-filled jet cards.
Guaranteed Availability and Flexibility
In a fast-paced world where time is crucial, guaranteed availability is a key feature of jet card memberships. It ensures that a private jet is always available when a member needs it, making it invaluable for those with unpredictable schedules or last-minute travel needs. Instead of adjusting schedules around available flights, members can have flights tailored to their schedule. This level of flexibility and convenience is unique to jet card memberships, enhancing the overall travel experience.
Jet Agency's membership offers access to thousands of aircraft, even during peak flight times. This guarantee makes private jet travel as convenient and flexible as regular commercial air travel, which is essential in today's fast-paced world. Additionally, memberships can be extended to anyone in the member's company or travel party, making them adaptable to varying needs. Unused hours never expire, ensuring that members get maximum value from their investment.
Wide Range of Aircraft Options
Jet card memberships offer access to a diverse range of aircraft options, allowing members to choose an aircraft that suits their specific travel requirements. Whether it's a short-haul flight that calls for a light jet or a transcontinental journey requiring a long-range aircraft, members can tailor their flying experience based on their needs. This customization elevates the value derived from the membership, adding a bespoke touch to every journey.
Jet Agency's memberships provide an impressive range of aircraft options. With access to a network of 5,700 private jets worldwide, members have abundant choices. Whether they prefer light, midsize, supermid, or heavy jets, the memberships cater to their unique needs. This extensive variety allows members to personalize their travel experience based on individual or corporate requirements, ensuring they can choose the perfect jet for their journey. Exceptional Service and Personalized Amenities Jet Card memberships can offer an unparalleled travel experience, complete with customized catering, personalized in-flight services, and comprehensive ground transportation arrangements. These features enhance the value offered by Jet Card memberships, ensuring that each journey is more than just a travel experience but a curated encounter with refined, premium service.
Jet Agency doesn't just offer private jet travel; it curates a luxury experience for its members. The memberships include a prestigious executive jet concierge service available 24/7/365. Personalized amenities, from gourmet catering to VIP ground transport, are also part of the package. When available, free jet upgrades add another layer of luxury to the members' travel experience.
Jet Agency's Memberships: A Sound Investment for Frequent Flyers
For frequent flyers, a Jet Card membership is a prudent financial decision. Compared to the costs, responsibilities, and commitments associated with aircraft ownership or the variable and sometimes unpredictable costs of ad hoc chartering, a Jet Card membership offers a more efficient and balanced solution. By seamlessly combining flexibility, cost management, and high-quality service, it provides a comprehensive travel solution that effortlessly accommodates the demands of regular air travel.
Frequent flyers will find Jet Agency's memberships to be a game-changer. Our program combines the exclusivity and convenience of private jet travel with the cost efficiency of commercial aviation. Compared to the high costs of aircraft ownership or the unpredictability of ad hoc chartering, memberships offer cost predictability, flexibility, and personalized experiences.
Jet Agency's Memberships: Adapting to Evolving Travel Needs
Jet Agency's memberships are designed to adapt to changing travel needs. As travel demands and preferences evolve, the convenience, flexibility, and cost-effectiveness of these memberships become even more valuable. We cater to different jet sizes, offering solutions for varying travel needs and preferences. With Jet Agency's memberships, members can be assured of consistently high value that perfectly keeps pace with their evolving needs.
Reach out to Jet Agency today and our team of aviation experts is available 24/7 to answer your questions and personalize a membership for you. CURIOUS ABOUT JET AGENCY?
Please let us know a little bit about you, and one of our experienced membership directors will be in touch shortly to help personalize a membership for you.