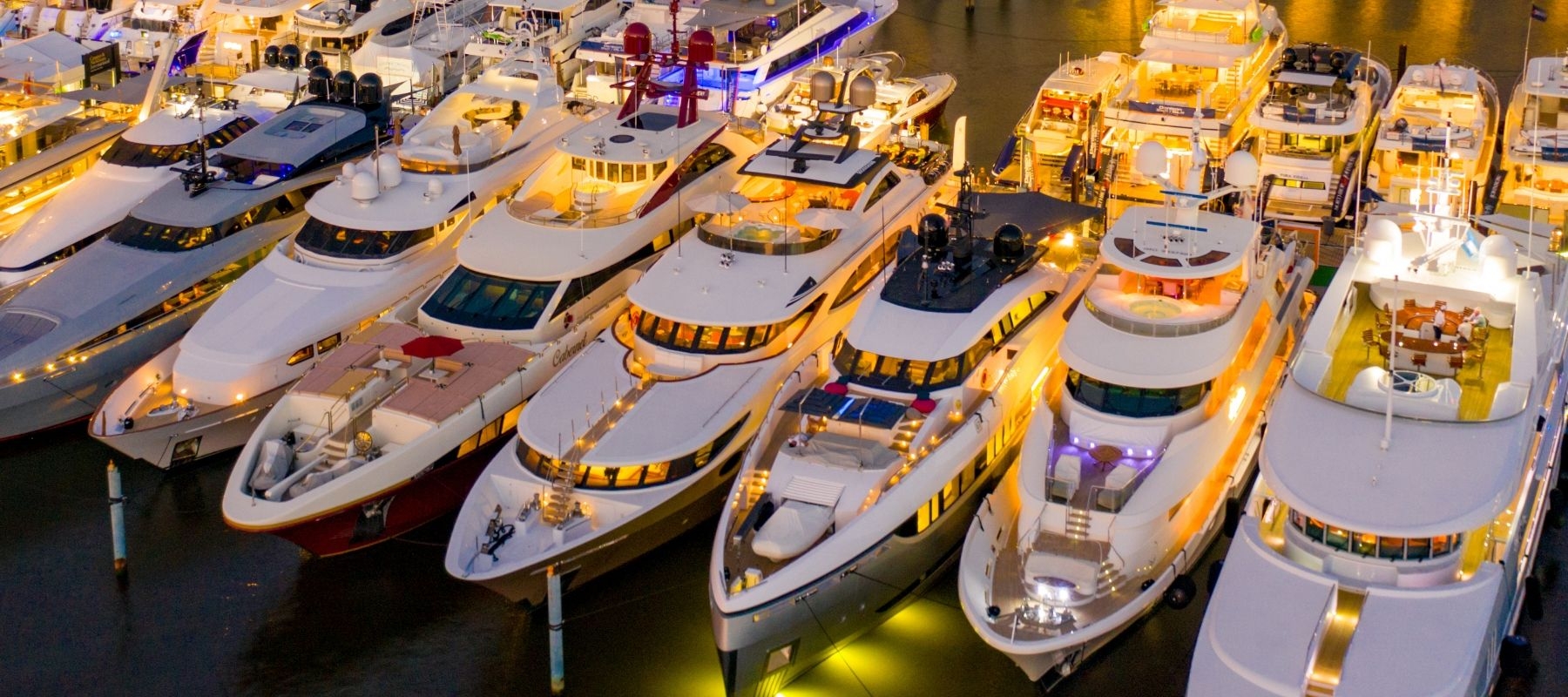 FORT LAUDERDALE INTERNATIONAL BOAT SHOW: A MUST-VISIT EVENT THIS OCTOBER
Written By Dylan Anderson | 09.25.23
Emerging like a pearl from the deep, the Fort Lauderdale International Boat Show casts a luminous glow over the maritime world. Nestled in the heart of Fort Lauderdale, famously dubbed the "Yachting Capital of the World," this annual rendezvous is a melange of luxury, innovation, and tradition. It's not merely a show—it's where dreams anchor and fantasies set sail.
Amidst the gentle lapping of the waters, attendees can behold everything from handcrafted wooden skiffs to gargantuan superyachts that seem more like floating mansions than mere vessels. Recognizing the grandeur of this spectacle, Jet Agency offers our members an equally lavish journey to the event, ensuring the experience starts long before they set foot at the show.
A Glimpse of the Fort Lauderdale International Boat Show
The legacy of the boat show traces back decades, from an era where boating was an emerging luxury to its current status as a symbol of opulence. As one wanders through the vast, meticulously organized docks and exhibits, there's an immediate realization of the sheer spectrum of vessels on display.
Beginning on the smaller end, there are vessels that capture the essence of personal maritime adventure—dinghies, skiffs, sport fishers, and canoes, each uniquely designed for specific water escapades. These might be overshadowed in size but not in craftsmanship, often adorned with intricate designs and state-of-the-art navigational aids.
Venturing further, attendees encounter the epitome of luxury and design with exquisite sailboats, state-of-the-art catamarans, and motor yachts. These boats often boast amenities that rival luxury apartments, with their plush interiors, cutting-edge tech integrations, and spacious decks.
But the showstoppers, undeniably, are the superyachts. These majestic marvels are floating testimonies to human ambition and luxury. Ranging from multi-storied giants equipped with helipads to those housing underwater lounges and private cinemas, they redefine opulence.
Spanning this extensive range, the Fort Lauderdale International Boat Show is both a tribute to maritime history and a beacon for its future, seamlessly merging time-honored traditions with the thrill of modern-day innovations.
What To Expect At The 2023 Event
October in Fort Lauderdale isn't just about the autumnal breeze; it's a celebration of marine magnificence. This year, the International Boat Show is positioned to be an unforgettable spectacle, filled with innovations and traditions.
Manufacturers, not just from the maritime strongholds of Europe and the U.S., but emerging players from Asia and the Middle East, will unveil vessels that have been years in the making. These are not just boats; they are testaments to human ingenuity, featuring eco-friendly propulsion systems, integrated navigation, and interiors crafted with materials previously unexplored in marine design.
The 2023 edition will also pay homage to maritime history. Antique boat auctions, historical maritime artifact exhibits, and presentations on the evolution of boat-making will take attendees on a journey through time.
For the tech-savvy sailor, digital innovations are aplenty. Dive into virtual tours of boats not physically present at the show, experience sailing simulations under various weather conditions, or partake in interactive forums discussing the future of marine technology.
Culinary delights are another highlight. Seafood harvested sustainably from various oceans, cooking demonstrations emphasizing ocean conservation, and even underwater dining experiences in on-site giant aquarium setups are bound to tantalize the senses.
Navigating the Event: Tips and Tricks
The sheer scale of the boat show can be overwhelming. The first-time visitor could easily find themselves adrift in a sea of exhibits. Early bird guided tours, available to a limited number of attendees, allow for a curated view before the crowds pour in.
Additionally, embracing technology can enhance the experience. AR-enabled apps can offer real-time data on boats you're viewing – from their history to real-time pricing. For those keen on capturing memories, dedicated photo zones, optimized for lighting and angles, ensure your maritime memories are picture-perfect.
With the show spread across multiple venues, planning transit is crucial. Exclusive boat shuttles, often aboard luxury mini-yachts, provide not just transit but an experience, ferrying attendees between venues.
Traveling to Fort Lauderdale: The Jet Agency Way
Embarking on a journey to the Fort Lauderdale International Boat Show deserves a flight experience that seamlessly weaves luxury, convenience, and precision. With Jet Agency, every moment in the sky is a curated experience, ensuring you arrive in Fort Lauderdale rejuvenated and ready for the maritime showcase.
Fort Lauderdale's Aviation Hubs:
Fort Lauderdale-Hollywood International Airport (FLL): As one of the major international gateways to South Florida, FLL is perfectly positioned to serve attendees of the Boat Show. With a range of premium services tailored for the discerning traveler, your Jet Agency flight can easily align with the high standards of FLL's facilities.

Fort Lauderdale Executive Airport (FXE): If you're seeking a quieter, more exclusive entry into Fort Lauderdale, FXE is your destination. Catering predominantly to private jets, this airport offers a swift, seamless, and private transition from air to city, making it a favored choice for many Jet Agency members.

Pompano Beach Airpark (PMP): Just a short drive from Fort Lauderdale, PMP provides another alternative for those seeking a less bustling entry point. With its well-maintained runways and services geared toward private aviation, it's an excellent option for those flying in on smaller jets or turboprops via Jet Agency.
Jet Agency's Membership: Raising the Bar in Private Aviation
Our Mission is clear: To redefine jet membership standards. We believe in transparent pricing, ensuring you pay solely for the experience, eliminating hidden charges or cryptic fee structures. One fixed rate, zero surprises—know your costs upfront and bask in the simplicity and clarity of our pricing.
Our dedication to member-centricity is evident in every facet. From our hassle-free booking process to our commitment to offer tremendous value, we're rewriting the script on what membership entails in the private aviation space.
Enjoy Absolute Flexibility; our fixed rate remains steadfast every day, with no fluctuation during peak seasons or unexpected blackout dates. Coupled with our Extensive Access to a fleet of over 5,700 aircraft spanning all categories, we guarantee not just availability but also superior flight quality. This expansive fleet ensures rapid flight recoveries, elevating reliability to new horizons.
But beyond the machinery and the numbers, it's the Personalized Touch that truly sets Jet Agency apart. You're not a mere entry in a database; you're a valued member. Our program isn't a one-size-fits-all; it's tailored, fine-tuned, and customized to resonate with your preferences and needs.
Experience Flight with Jet Agency
As the Fort Lauderdale International Boat Show offers a panoramic view of maritime brilliance, let Jet Agency put together your luxurious gateway. It's more than a flight; it's an ode to refined tastes, meticulous customization, and undiluted luxury. Begin your maritime sojourn amidst the clouds. Choose Jet Agency, where your journey mirrors the destination's grandeur. CURIOUS ABOUT JET AGENCY?
Please let us know a little bit about you, and one of our experienced membership directors will be in touch shortly to help personalize a membership for you.