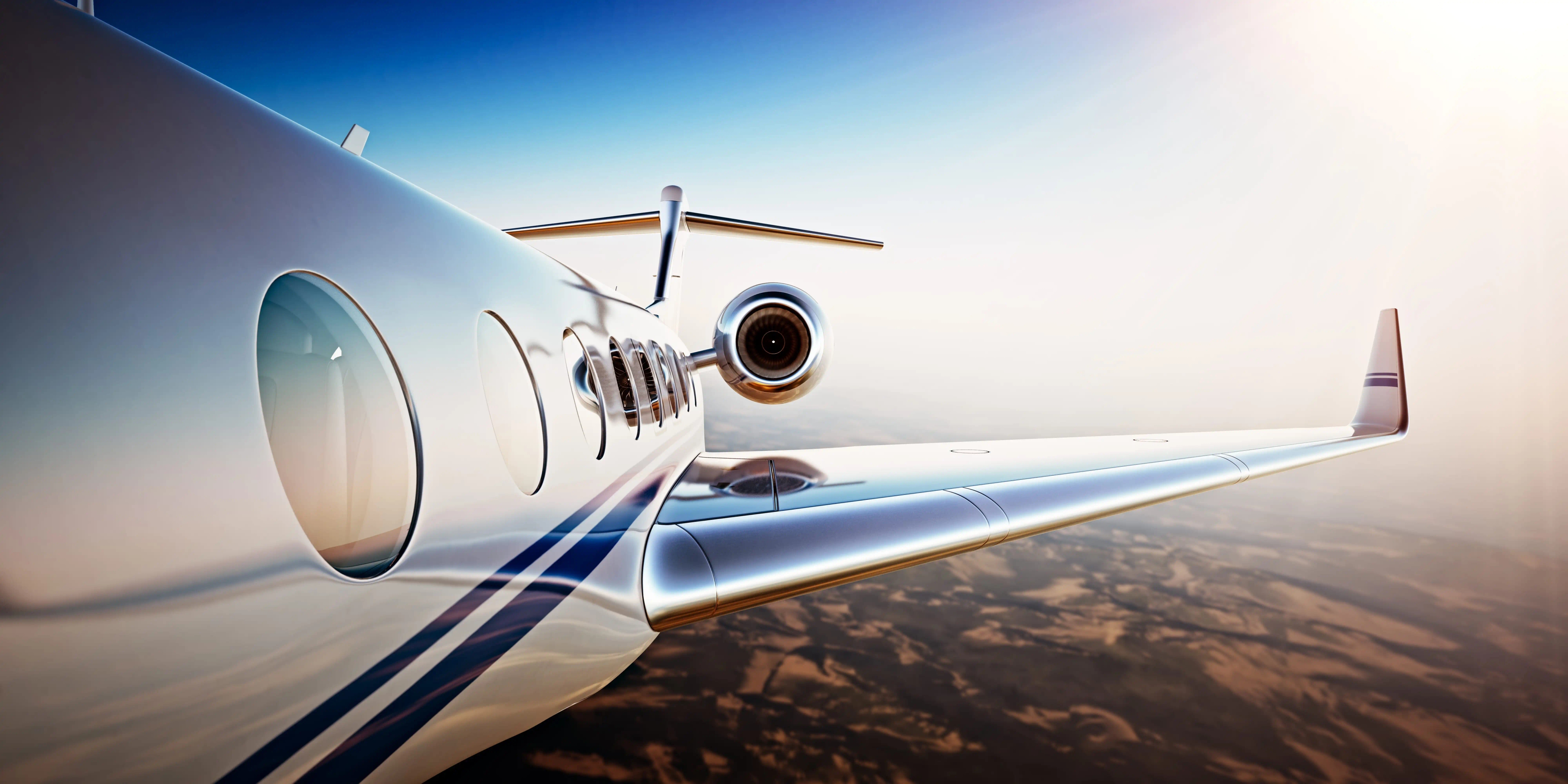 DO PRIVATE JETS FLY FASTER THAN COMMERCIAL AIRLINES?
Written By Dylan Anderson | 10.19.22
You know that private jets are incredibly convenient and remarkably comfortable compared to commercial airlines, but are private jets faster than commercial airlines? After all, when it comes to travel, time is your most precious commodity, and the speed of your aircraft plays a large part in getting you to your destination sooner. The next time you plan a flight, keep in mind that the speed of private jets is almost as impressive as their level of comfort.
How Fast Do Private Jets Fly?
The speed of private jets can vary quite a bit because there are so many different sizes of jets. There are six different types of jets, from turboprops to ultra-long-range jets. Small turboprops usually reach speeds around 300 to 400 mph, while business jets and ultra-long-range jets can reach up to 700mph.
On average, you can expect your private jet to fly at speeds between 350 and 650 mph. One of the most popular very light jets, the Cirrus Vision Jet, can reach a top speed of around 350 mph. Other popular aircraft, like the Cessna Longitude business jet, reach a top speed of around 556mph, while the well-respected Bombardier Global 7500 Series can reach up to 610 mph.
However, some of the fastest private jets in the world, like the Gulfstream G700 or the upcoming Dassault Falcon 10X, can fly at speeds up to around 710 mph, getting you to your destination in near record time. The Cessna Citation X+ is the fastest of all of them, reaching speeds of 717 mph.
How Fast Do Commercial Airlines Travel?
Commercial airlines are generally around the same size as the mid-size to heavy jet categories of private jets, meaning they also travel at similar speeds. The exact speed, of course, varies from plane to plane, but when you fly commercial you can usually expect to fly at speeds between 500 and 600 mph.
For example, a Boeing 737, one of the most common commercial aircraft, flies at a cruising speed of about 520 mph. Other popular commercial aircraft sit around a similar range, like the Airbus A320, which travels at a cruising speed of around 515 mph. Of course, these speeds can also depend on other factors like weather, weight, and wind resistance.
Factors That Influence Private Jet Speed
The true speed of private jet travel can vary depending on a few factors. Namely, the size of your jet and the overall convenience of private charter makes a key difference in how fast your jet can get you to your destination.
Size
Size is a significant contributor to the speed of private aircraft. It may seem like smaller flights would be lighter and faster, but this isn't exactly the case. Larger aircraft are usually faster because of their fuel capacity. Larger aircraft are able to hold more fuel, which means they can use it to reach higher speeds. The fastest private planes are usually business jets that offer a balance of lighter weight and higher fuel capacity.
Another key component in size is weight. Your speed can depend on the number of passengers and bags onboard. Although, most private jets are lighter than commercial airlines because they contain over 100 fewer passengers. Other factors, like weather and wind resistance, will also influence speeds differently with more weight.
Time To Takeoff
Flying private adds an extra element to speed–getting you in the air faster. Since just you and your party are onboard, you do not have to worry about waiting forever for passengers to board or for hundreds of bags to get loaded onto the plane. At the same time, you can forget about passengers causing disruption or delays to your flight. Once you are ready to go, your flight is ready to go, getting you off the ground faster.
Convenience
Plus, boarding a private aircraft means passing through a different part of the airport, called a fixed base operator. Skipping the main terminal of the airport means fewer crowds and no TSA security lines. Instead, travelers pass through a much smaller, more efficient security checkpoint.
Now, these factors may not influence the actual speed of the aircraft, but they do influence how quickly you get in the air and how quickly you can get to your destination, which is a big deal. When you travel, every minute counts, and flying private helps save you plenty of time so you can get to your destination faster.
Enjoy the Speed of Private Jet Travel
All things considered, private jets are going to get you to your destination faster than commercial airlines pretty much every time. With impressive private jet speeds and the ability to get you in the air as soon as possible, private jet charter is the go-to option for fast and efficient travel.
Book a private flight with Jet Agency so you can see the difference for yourself. There is plenty more to appreciate about flying via private jet charter, from the excellent amenities and convenient service to the privacy and advanced safety. We guarantee you excellent service every time while following the most comprehensive safety standards in the industry. Contact our 24/7 concierge service today to start building your next travel plan. CURIOUS ABOUT JET AGENCY?
Please let us know a little bit about you, and one of our experienced membership directors will be in touch shortly to help personalize a membership for you.