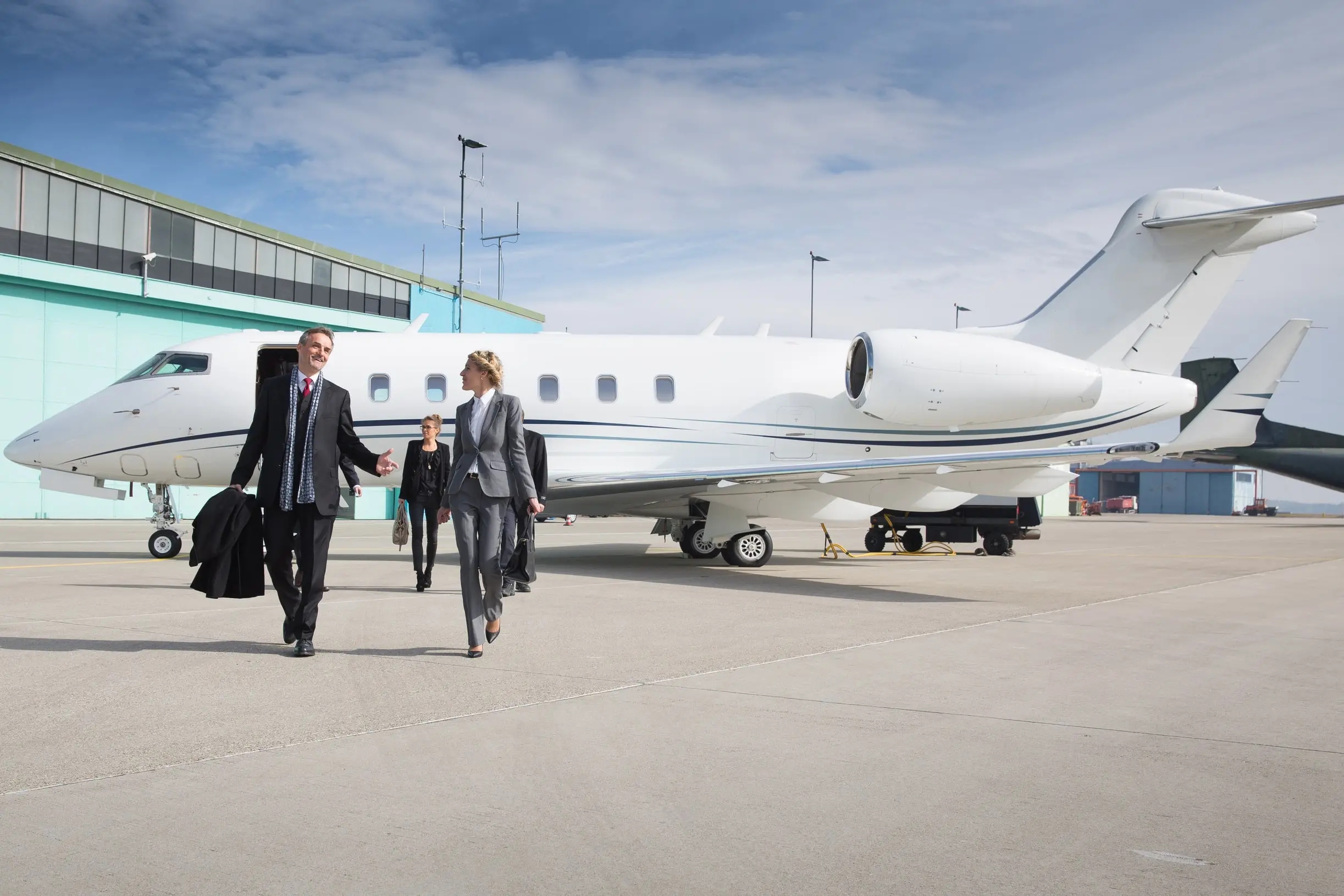 BOOKING A PRIVATE JET CHARTER FOR YOUR BUSINESS
Written By Dylan Anderson | 09.09.21
When you work hard, you deserve to travel stress-free so that you can handle your business appropriately. When you are on the go, you do not have the time for the interruptions and uncertainties that come with commercial air travel. As a result, more and more executive travelers are moving away from first-class toward private jet charter for their important trips. This guide will highlight the advantages of flying a corporate jet charter and discuss how to book a private jet charter for your business.
How to Book a Private Jet Charter for Your Business
Booking a private jet charter for your business is easy. First, you should determine what type of aircraft will be ideal for your trip, depending on whether you will be traveling alone or with a team. Then you can easily file for a quote with your destination and choose to book the flight. If you are a member of our Fixed Route Program or Jet Card Membership Program, you can simply book your flight in moments right from our app. If you have any questions throughout the process, Jet Agency is committed to providing exceptional service every step of the way.
The rest is done for you. We ensure that your flight crew meets rigorous safety standards and that your aircraft is carefully inspected before taking off. Leave it in our hands to provide you the comfort that you need throughout the whole experience with a friendly flight crew. Jet Agency works to provide you a comfortable, holistic flight experience.
Overall, the many variables involved in commercial travel can throw you off and get in the way of your schedule and your business. Your time is important. When you have the opportunity to save time, ensure your safety and experience extreme comfort, you should not pass it up. Make the choice to fly private for your next business trip; it will make all the difference. Book with us today so that you can reach your destination with all of the comfort and convenience you deserve.
Advantages of Booking Jet Charter for Businesses
When you are traveling for business, time is everything. It is important that your time is not wasted and that your downtime is used effectively. Flying a private jet charter is the best way to maximize your time when you travel, helping you to avoid inefficiencies and get you to your destination quickly.
Understandably, you are busy and cannot afford to waste time. Flying commercial requires a lot of waiting, either in the long lines of security, at your gate or even waiting for other passengers to board and get in their seats so that you can finally take off. You can bypass all of that with a private charter, from security to boarding to reaching your destination. Here are some of the best advantages of choosing a private flight:
Avoid the Crowds
When flying a private charter, you will pass through a smaller Flight Based Operator (FBO) terminal, meaning that you will not have to move through the crowds of commercial passengers also trying to reach their flights. You also do not have to pass through TSA. Instead, you will pass through a much smaller and much quicker security checkpoint. When flying private, the security process is much smoother and does not require taking off your shoes or belt. Skipping the crowds allows you to save time and reach your flight quicker, never missing a beat.
Stay Safe and Healthy
Avoiding crowds is also better for your safety, especially in today's uncertain times. Flying private makes it much easier for you to social distance and avoid getting sick. Work can be stressful enough; you should not have to stress about getting infected with something on your trip. Sanitizing procedures are also much easier to carry out on a smaller plane with few passengers. Jet Agency specifically ensures that planes are sanitized and that health screenings are done regularly. In uncertain times, your peace of mind is just as important as getting to your destination.
Have Flexibility to Meet Your Schedule
When you are busy, meetings can pop up quickly, or tasks may need to be taken care of at a moment's notice. A private flight can often have you in the air within less than three hours of booking. Meeting your deadlines and making it to meetings on time is obviously necessary. Private jet charter makes it far easier to make sure you are punctual. Since the only other passengers are those you choose, your flight will be ready to go as soon as you are, keeping you on schedule and relieved of stress.
Make the Most of Your Time
Even when you are in the air, you want to make the most of your time. If you are on a business trip, there may be some last-minute tasks to take care of, virtual meetings to attend, or the need to catch up on rest. On a private jet charter, you will have the peace and quiet needed to do it all. Available Wi-Fi, depending on your choice of jet, will also allow you to be as productive as you would like while on the way to your destination.
Enjoy Maximum Comfort
You will not have to worry about the same concerns as you do on commercial flights, like noisy passengers, interruptions or lack of space. The abundance of space, comfort and extensive amenities all allow you to take care of what you need with a relaxed state of mind. Whether you want to be productive or relax on the way to your destination, flying private makes it easy.
Receive Great Rewards
Flying private corporate jet charter gives you the opportunity to receive extensive benefits and rewards. Jet Agency strives to be the best jet charter for businesses, offering several benefits for those who fly often. For those who frequently travel between the same two destinations, our Fixed Route Program allows you to pay the same rate every time without fluctuation and allows you to book your business trips in just one click.
Others will benefit from our Jet Card Membership, which allows you to lock in hourly rates for your flights and have frequent opportunities for upgrades. When you are frequently flying, you deserve to be rewarded for it. Jet Agency will ensure that you are. Even sitting first class on the best commercial airline cannot match up to the benefits of choosing a corporate charter. There are plenty of reasons why executives have recently begun moving farther away from commercial flights. Book your next flight through a private charter to experience the comfort. CURIOUS ABOUT JET AGENCY?
Please let us know a little bit about you, and one of our experienced membership directors will be in touch shortly to help personalize a membership for you.