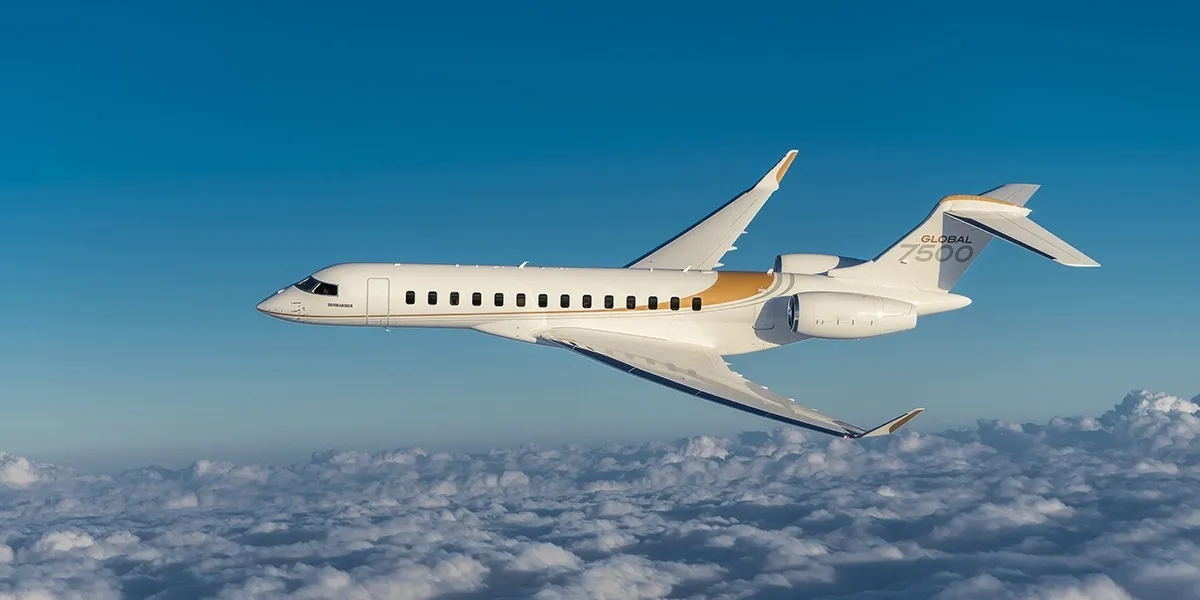 Written By Lance Tweden | 05.27.21
The Bombardier Global 7500 is an Ultra-Long Range jet and is available for charter through Jet Agency. It is one of the biggest and newest business jets on the market. The Bombardier Global 7500 started production in 2010 but didn't make its first delivery until the end of 2018. Bombardier is a Canadian based company, is one of the oldest and most reliable aircraft manufacturers in the world.
A good reason to charter the Global 7500 from Jet Agency is because of its Range, Comfort and Runway Performance. Seating up to 14 passengers, this aircraft is perfect for any long distance business trip or family vacation. It has a range of 7,500nm connecting some of the world's most influential city pairings. The Global 7500 also has one of the newest and most modern cabin designs of any business jet giving you the comfort needed for long haul flights. For its size, the runway performance is also unrivaled giving you access to more airports worldwide so you can land closer to your end destination.
Range
One of the main reasons Jet Agency clients appreciate the Global 7500 is because of its range. It can travel up to 7,500nm connecting some of the world's most influential city pairing including New York to Hong Kong, Singapore to San Francisco and Los Angeles to Sydney. No matter where you are heading in the world, Jet Agency can help arrange virtually any charter non-stop on the Bombardier Global 7500.
Performance
Range : 7,500nm
Max Cruising Speed : Mach 0.85 (487 kn / 902 km/h)
Ceiling : 51,000 feet
Take off Distance : 5,800 feet
Landing Distance : 2,520 feet
Comfort
With a roomy and functional 4 zone cabin for passengers to relax, dine and enjoy entertainment - the comfort of the Global 7500 is unmatched. The crew also have a separate suite and kitchen for ultimate privacy during flight. The FAA has provisions requiring crew rest areas be provided in order to operate a long flight by using multiple crew shifts. The Global 7500 also comes equipped with extra large windows which creates a natural environment for conversation and business productivity. And - If you're looking for an aircraft with a shower, some of Global 7500 configurations will offer that as well.
Cabin Dimensions
Height : 6.2 feet
Width : 8.0 feet
Length : 54.5 feet
Cabin Zones: 4
Runway Performance
Runway performance isn't the first thing you think of when chartering a private jet but a big difference maker for the Global 7500 given its size. At maximum weight, it only needs 5,800 feet of runway to takeoff. Much less if you are traveling a shorter distance with less fuel. It also only needs 2,550 feet to land which rivals the performance of most light jets. This is a major benefit as it allows you to land closer to your end destination.
Flying the Global 7500 with Jet Agency
When you charter the Global 7500 with Jet Agency, we have the experience and the dedication to client satisfaction you want. No matter what kind of flight route and accommodations you need, we will work to make your experience as stress free as possible. Arrive at your destination relaxed and in luxury with the help of Jet Agency. Contact us today for more information and to book your next flight. CURIOUS ABOUT JET AGENCY?
Please let us know a little bit about you, and one of our experienced membership directors will be in touch shortly to help personalize a membership for you.