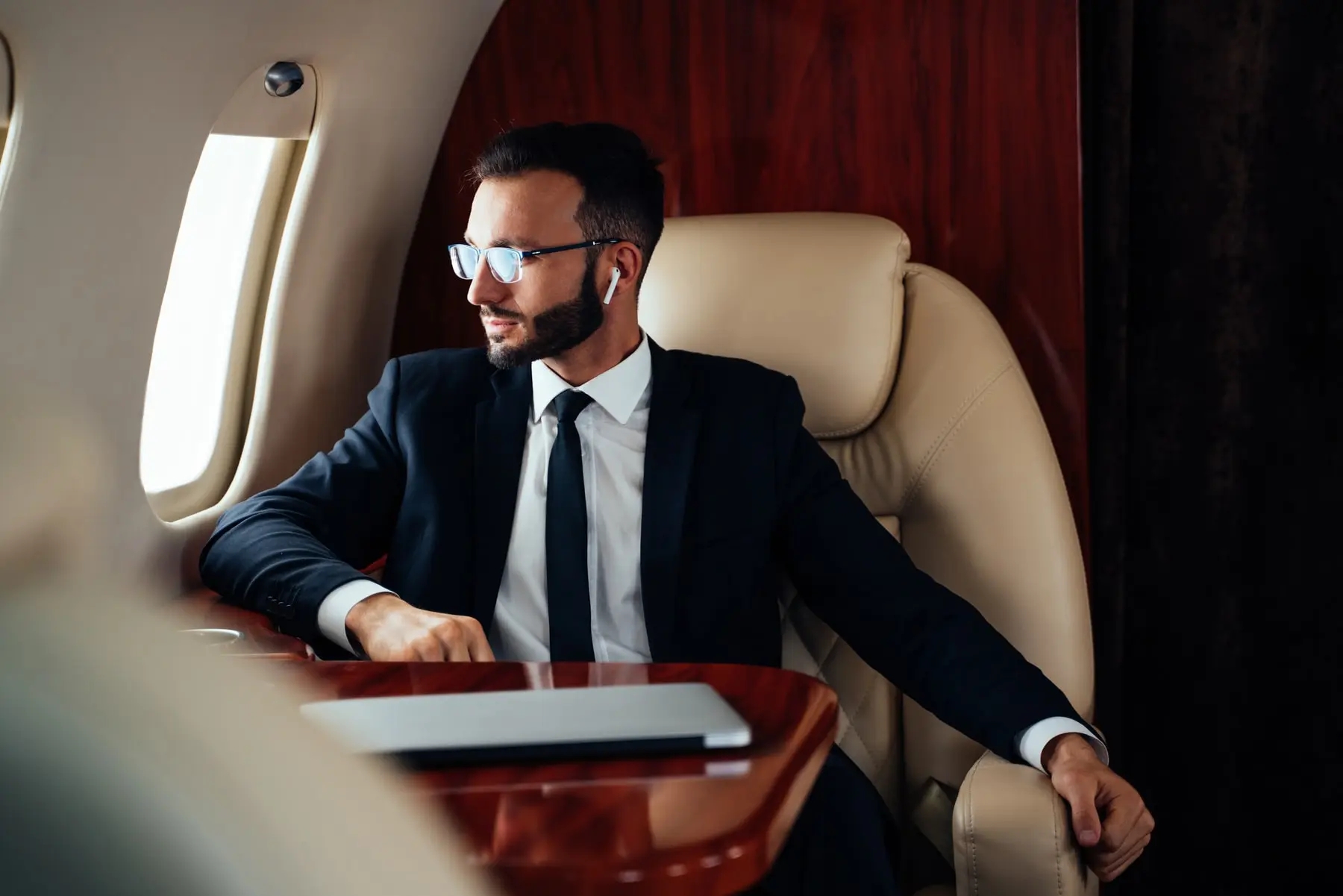 BENEFITS OF A PRIVATE JET COMPANY VS BUYING A JET
Written By Dylan Anderson | 11.17.21
Owning a private jet is a luxury not afforded to many. But to those who want to experience the undeniable grandeur of flying privately and benefit from the convenience of having a jet at their disposal, buying a private jet might seem like a good idea.
But is it really? Do you fly enough hours a year to make purchasing a private jet economical? Or would you do better with using a jet broker now and then? Below, we explain the benefits of chartering and how it can be a better alternative to full ownership of a private jet.
So, if you are wondering why to use a private jet broker when you can buy an aircraft instead, you will find your answer below.
How Much Does Buying a Jet Cost?
When buying a jet, the first thing you need to keep in consideration is the price. Depending on your budget, there is a wide range of private jets, including executive airliners, turboprops, and mid-sized cabin jets.
On average, new jets cost around $2 to $60 million. If they are larger, they may cost more. Meanwhile, a light jet can cost around $3.3 million while a turboprop, such as the Beechcraft King Air B200 could cost $1.5 million or higher.
Fortunately, aircraft last a long time in pristine conditions. There is always an option to buy used private jets instead of using a jet broker. However, since the pandemic began, it seems like that option is also off the table, along with the opportunity to purchase a new aircraft.
Shortage of Pre-Owned Private Jets
The U.S. is known for being the biggest market for private jets. However, like every other industry, the aviation manufacturing industry also took a significant blow as the Covid-19 pandemic spread.
As manufacturing came to a halt, the supply of new private jets also declined. Because of this, buyers were forced to look for pre-owned private jets.
But that was a lost cause, too, since people who owned private jets did not want to sell theirs unless better replacements were available. On top of that, as the supply plunged, the prices spiked.
Now, aircraft acquisition and sales firms are actually sourcing private jets from other countries and bringing them to the U.S. For instance, Jetcraft is an aircraft sales company bringing private jets from Hong Kong, Indonesia, and Malaysia to the U.S.
As a result of this additional cost, the prices are sky-high at the moment. The aircraft brought to the U.S. from Asia have to be repainted, and that can cost a few hundred dollars.
Similarly, the firm has to remove the non-English signs and replace them with English instructions. Plus, the in-flight entertainment system has to be converted to English. The bottom line is, buying a jet has become extremely expensive given the current circumstances.
Additional Hassle and Cost of Buying a Jet
When buying a jet, you are paying the overhead cost and preparing yourself for the additional costs and hassle. Why use a private jet broker instead? Because you can evade the extra costs of purchasing a jet by using a jet broker.
For one, you need a crew for the aircraft. Sourcing the crew, training them, and ensuring their regular training can be inconvenient and costly.
Similarly, you are responsible for paying the repairs and maintenance charges of your private jet. If you want to customize the jet - for instance, install an entertainment system - you will have to pay the additional costs for that too.
Some other costs include:
Pilot fees and training
Aviation insurance
Hangaring
Safety inspections
Repositioning when flying one-way
If you plan to rent out the aircraft when it is not in use, you will also have to hire a management company and pay them for their services. So, it is a continuous cycle of maintenance, repair, upkeep, and inspections.
Alternatives to Buying a Private Jet
As we have already covered, buying a jet requires a hefty upfront cost. Moreover, you have to maintain the aircraft constantly. More importantly, you will have to spend money chartering a private jet for urgent travel if your personal aircraft is down for maintenance or repairs.
So, what is the alternative? Luckily, there are a few.
First, you can look for a reliable private jet company and charter an aircraft for your air travel. Why use a private jet broker? It is more convenient and allows you to choose the aircraft of your preference instead of being stuck with the one you bought.
Second, you can get private jet card membership if you fly frequently. Members get preferential treatment and additional amenities. More so, you can enjoy better rates, especially if you choose Jet Agency as your private jet company.
Why Use a Private Jet Broker
Here is the million-dollar question; why use a private jet broker if you can own a plane and have access to it whenever you want? Here are some benefits of chartering:
Convenience
If you have ever wondered why to use a private jet broker rather than buying a plane, you may have no idea about the level of convenience a private jet company provides you.
When you use a private jet company, everything is their responsibility. You just have to book your flight and show up. Even better, at Jet Agency, we provide you transportation to and from the airport, making the commute even more convenient for you.
Safety
Every private jet company has to maintain a certain standard to make its name in the industry. Why use a private jet broker to ensure safety rather than making your personally owned aircraft safe? Well, mainly because it will be quite hard for you to provide the same level of safety.
At Jet Agency, we focus highly on safety, which is why all jets go through rigorous safety inspections before you board them.
Likewise, the pilots are sufficiently trained and experienced. More importantly, they know everything about the particular jet they are flying, which is much better than knowing a little bit about every plane there is.
All planes are also ARTUS safety-rated, the most reliable stamp of safety approval you can find in the aviation industry.
Customization
When you buy a private jet, you have specific requirements that you want the aircraft to fulfill. But what if these requirements change with time?
What if you want the jet to have an entertainment system or a meeting space? Incorporating all these amenities in your private jet will cost you hundreds of thousands of dollars.
Instead, if you simply turn to a private jet company like Jet Agency, you will have thousands of jets to choose from. Thus, you can select an aircraft with your desired amenities.
Should You Get a Jet Card Membership?
Why use a private jet broker, you asked? Well, we answered your question. But what about the second alternative? How good are private jet card memberships?
If you want to maximize the benefits of chartering for frequent traveling, you should consider getting a Private Jet Card Membership.
With a membership card, you will be in control since you can fly whenever you want. Members get quick access to private jets and other amenities that may not be available to regular flyers.
Suppose you do a jet charter vs commercial flight comparison, you will definitely see more benefits of the former. For one, you do not have to wait for long hours or days for your flight to be available.
Jet Agency can arrange a private jet for you in just a few hours of you requesting one.
Other benefits of chartering are service inclusion, such as free Wi-Fi and catering, convenience, well-trained crew, and more.
Even better, if you occasionally fly between the same airports or cities, you can opt for the Fixed Route Program that is designed for such travelers. The program gives you peace of mind with a predetermined fare since there are no surprise costs at the end of your trip.
Also, you can enjoy all other benefits of chartering, along with the added luxury of not having to consult a private jet broker for every single flight. Once you have communicated something to Jet Agency, we make your preferences our priority.
Bottom Line: Who Should Buy a Private Jet?
Just because private jet ownership comes with costs and hassle does not mean there is no room for purchasing. However, owning a private jet is not the ideal solution for every traveler.
According to experts at Avion Insurance, people who travel more than 300 hours every year should consider purchasing their own private jet since it is a wise investment for them.
Many people end up buying private jets for all the wrong reasons and regret it later. In fact, you should only consider purchasing a private jet after you have chartered for a certain period.
For instance, Tony Robbins flew privately for twenty years before deciding to buy a private jet. So, if you are contemplating why use a private jet broker, take the example of the millionaire life coach.
Even the wealthy who have the resources cannot justify the cost of owning and operating a private jet, so they charter instead. Why use a private jet broker? Because even those that could purchase their own jet are using a jet broker instead. You do not need a private jet if you only fly a handful of times a year.
So, it is not always about the money involved in buying a private plane but also the commitment and responsibility that comes with it. If you are not prepared for that just yet, chartering a jet is your best resort. CURIOUS ABOUT JET AGENCY?
Please let us know a little bit about you, and one of our experienced membership directors will be in touch shortly to help personalize a membership for you.