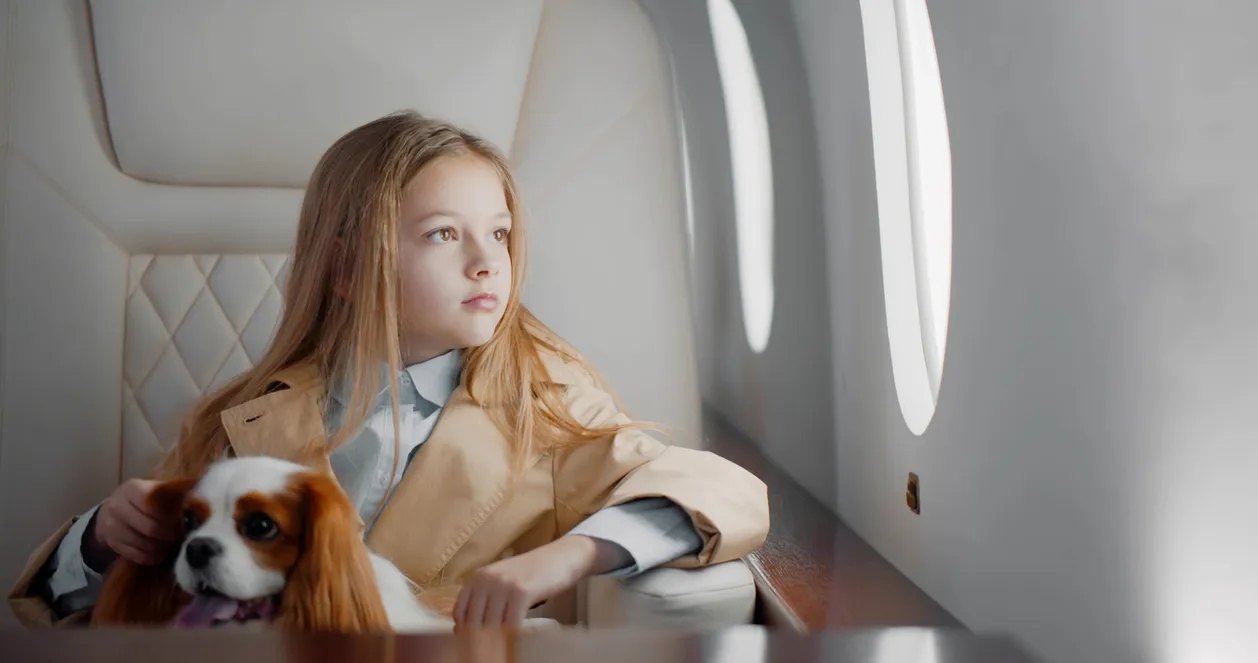 9 TIPS WHEN FLYING WITH YOUR PETS ON A PRIVATE FLIGHT
Written By Dylan Anderson | 04.19.21
There are few things as exciting as bringing your pet along on your travel adventures. Not only do pets provide you with happiness and comfort during your journey, but many of them love experiencing the sights, sounds, and smells of a new destination, too.
If you are interested in traveling with your pet, turn to private air travel for pets. When you book a private jet charter that is pet-friendly, you can fly with your animal in comfort and style. While traveling on a private flight with your pets, you do not face the same restrictions as you would when flying commercially. For example, you do not need to place your pet in a carrier with cargo. Instead, you can fly with your companion right by your side in the cabin.
While there are many perks and benefits to turning to private air travel for pets, there are some things you will want to keep in mind before packing your bags. Below, we have provided nine helpful tips for flying with your pets on a private flight.
1. Schedule a Visit With Your Vet
Depending on your travel plans, your pet may need a health certificate signed by your vet. This document shows that your pet has undergone an examination and has met all the necessary requirements to travel.
Before reserving your private flight with pets, schedule an appointment with your vet. This is an opportunity for the vet to examine your pet's health, plus it is also a chance for you to ask any questions you might have about traveling with your pet. You may want to discuss potential medications or ways to ease the stress.
2. Look into Legal Requirements
The United States Department of Agriculture only permits you to fly with your pets if they are at least eight weeks old, weaned, and healthy. That said, airlines are allowed to set their own pet regulations, and some states, territories, and countries may have additional pet guidelines.
For example, Hawaii is rabies-free, so the state imposes strict regulations regarding rabies vaccines. If your pet does not meet the vaccine requirements, it may face a 120-day quarantine. Australia is another example of a destination with firm pet regulations. All dogs and cats traveling from outside the country (aside from neighboring New Zealand) are subject to a minimum of 10 days at the Post Entry Quarantine in Melbourne.
Because of these restrictions, it is a good idea to plan ahead and know what to expect. Familiarize yourself with the proper customs and certificates needed to travel to your destination. When in doubt, speak with your vet and charter company for more guidance.
3. Provide Up-to-Date ID Tags
When it comes to private jet pet travel, do not go anywhere until you have updated your pet's ID tags. It is pertinent that you have contact information available in case your pet should get lost or run away.
4. Consider Microchipping Your Pet
Knowing your pet has a microchip can be your saving grace if you and your pet get separated during your travels. The vet or shelter will likely scan your pet for a microchip, which will provide them with your contact information.
If your animal is not already microchipped, consider talking to your vet about the implant before your travels. If your pet is already chipped, make sure you have updated the microchip with your current contact information.
5. Be Sure to Bring a Leash, Harness, or Carrier
While one of the best parts of flying on a private jet with your pets is that you are allowed to have them with you in the cabin, you will need a way to restrain them, particularly during takeoffs and landings. Just like human travelers need to remain seated and buckled during certain parts of the flight, the same will go for your pet to ensure everyone's safety on board. Be sure to have a leash, harness, or carrier that you can use to keep them under control. The same goes for boarding and deplaning--you will need to have your pet on a leash or in hand.
6. Notify the Charter Company in Advance
Before booking your private flight, double-check that you are choosing a private charter that is pet-friendly. Once you do so, be sure to notify the charter company that you will be traveling with a pet. Depending on the charter, you may have to provide specific documents or abide by certain rules. Some private jet companies may even require you to book a seat for your pet. It is best to know what to expect in advance so you and your animal are prepared.
7. Bring Along Comforts of Home
Traveling can be stressful for pets. To help ease anxiety, bring along some of their favorite comforts of home. Does your cat have a favorite blanket? Bring it along in your cat's carrier to help her feel at home. Or does your dog have a toy he will not leave home without? Do not forget to bring it along with you. You can even pack some of your pet's favorite treats to spoil them while they are in the sky with you.
8. Don't Over Hydrate
It is important to ensure your pet is hydrated. Note that some experts recommend not giving your pet water within four hours of your flight to help prevent accidents. Before boarding, give your dog one extra walk to empty his bladder.
9. Determine If Your Pet Enjoys Travel
Some pets find adventure in any situation, while others are more prone to stress and anxiety. While you may love the idea of taking to the skies with your pet, your pet may not feel the same way. If possible, do a trial run with your animals, practice carrying them in a carrier, or bring them to unfamiliar places. If your pet does not do well or has not traveled comfortably in the past, it may be best to leave him at home. There are plenty of pet sitters and pet accommodations that will happily take care of your animal while you are away.
Are you looking to book your private flight with your pet? We are ready when you are. Here a Jet Agency, we make it easier than ever to take to the skies with your furry or feathered friends. In addition to providing you and your companion with a safe and flawless flight, we offer elite perks when you sign up for our Jet Card membership program. Reserve your flight with us today and get ready for an adventure with your pet in tow. CURIOUS ABOUT JET AGENCY?
Please let us know a little bit about you, and one of our experienced membership directors will be in touch shortly to help personalize a membership for you.