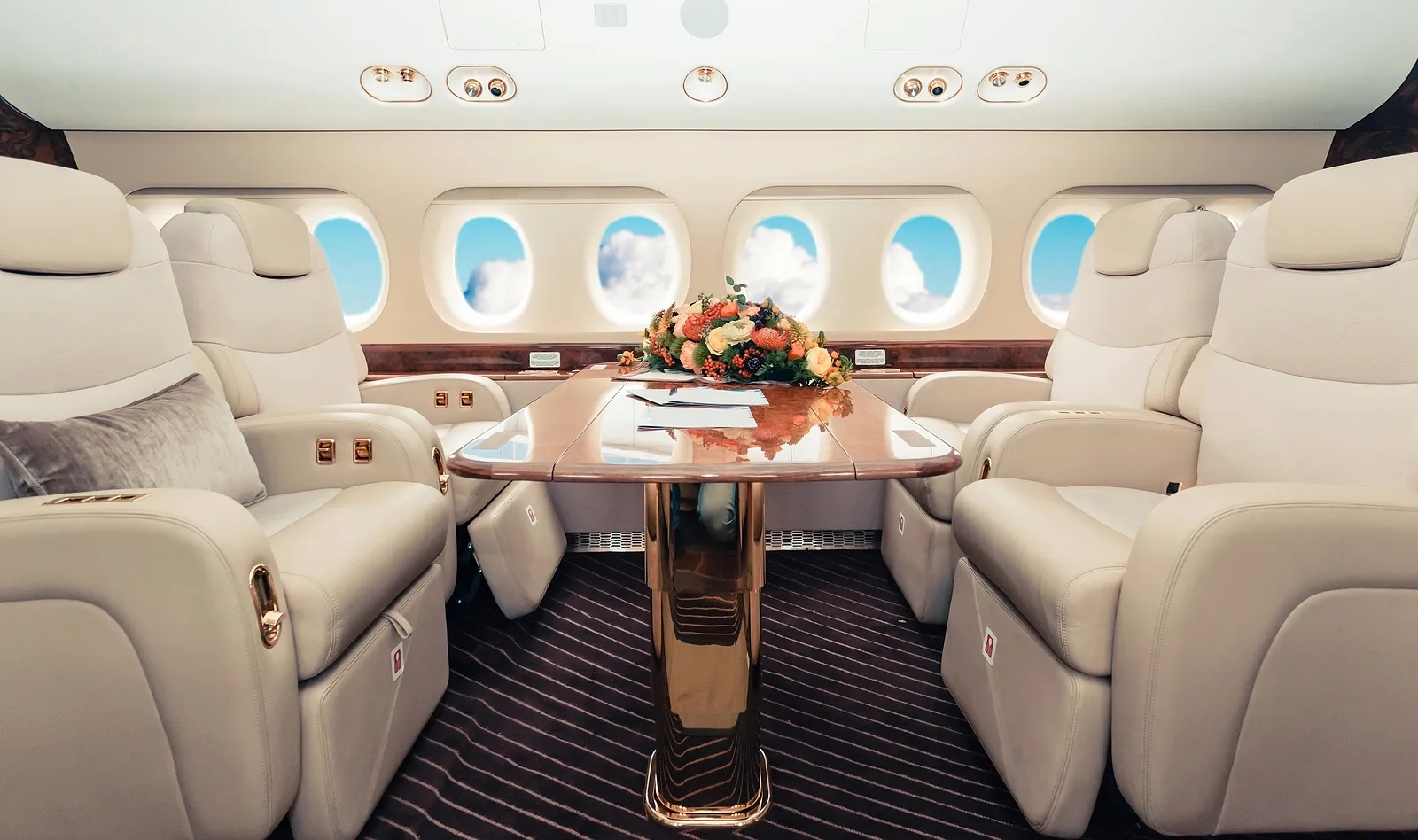 5 DIFFERENT PRIVATE JET INTERIORS
Written By Lance Tweden | 08.19.21
When choosing your preferred private aircraft, you have a lot of impressive options to consider. You get to explore certain makes and models as well as different aircraft sizes. On top of that, each aircraft features its own unique interior design. Some jets come with customizable seating arrangements to best suit your preferences, while others focus on the details and accents.
Perhaps the best part of flying private with Jet Agency is that we invite you to browse through our elite fleet of aircraft until you find the jet that speaks to you. If you are still in the discovery phase, check out our favorite private jet interiors. In our list below, we have highlighted some of the best private jet interiors based on jet size. Whether you are looking for a compact very light jet or a spacious heavy aircraft, these private aircraft interiors are sure to impress.
Very Light Jets
The very light jet category may be compact, but what it lacks in size, it more than makes up for in comfort and luxury design elements. The Honda Jet, which is considered one of the most technologically advanced aircraft in its class, offers one of the best private jet interiors. The beauty of this private aircraft interior is that it features four executive seats in a club seat arrangement facing one another to provide optimal legroom, while the cream colors and light wood trimming give the cabin a crisp and clean feel. When it comes to lavish very light jet interiors, this one stands out from the rest.
Light Jets
The Phenom 300 is an exemplary light jet with an impressive interior. Designed in collaboration with BMW Designworks USA, this luxury jet interior incorporates leather and wood accents creating a stunning aesthetic appeal. It can accommodate up to seven passengers with its two-tone, hand-stitched plush leather seating that lays all the way flat for the utmost comfort. But perhaps one of the most notable design features is that it boasts the largest windows in this jet category, creating an open and airy cabin space filled with natural lighting. This light jet's interior is the epitome of comfort and style.
Mid Jets
In the mid-size category, feast your eyes on the private jet interior of the Hawker 800XP. Comfort is the name of the game in this exquisite aircraft that can seat up to eight passengers with a club section, divan, and forward-facing seat. The spacious cabin is decked out with fine leather accents and an inviting wood and creme color palette. With several windows lining each side of the aircraft, the cabin receives plenty of natural sunlight and offers extended visibility for its passengers to enjoy the scenery.
Super Mid Jets
With a bigger jet comes more bells and whistles in terms of the private jet's interior and amenities. The Cessna Citation X exudes elegance with its lavish carpeted cabin, which shows off tan executive leather seating and rich, dark wood highlights. To top it off, this elite jet offers several seating configurations to best suit your preferences. Go with the standard, forward-facing seating arrangement or create a more open feel with the side-facing divan setup.
Heavy Jet
Heavy jets feature the most spacious private aircraft interiors of all. In fact, some of the jets in this category can fly more than 20 passengers at once. One of the best private jet interiors in the heavy jet class is found aboard the Gulfstream G450. With room for 16 private travelers, this roomy aircraft exudes comfort in the sky as the main cabin seats transform into single beds, while the dining room converts into a double bed--ideal for long hauls or overnight flights. This heavy jet offers three artisan interior designs to choose from, the Walnut, Santa Fe, and Pewter, each offering its own unique touches.
Book Your Private Jet Today
This list only scratches the surface when it comes to the many divine luxury jet interiors out there. Contact us here at Jet Agency to discover even more about the best private interiors and find the ultimate model for you and your private travels. No matter which aircraft you decide on, we will treat you to a pedigree flight experience catered to all your travel preferences every time.
When reserving your private jet with us, be sure to inquire about our exclusive programs, too. If you plan to frequently travel the same route, take advantage of our Fixed Route Program, which lets you lock in the price of your journey. And for even more perks, join our Jet Card loyalty program and earn membership benefits, such as complimentary catering allowances and free jet upgrades. Book your private jet with us today, and get ready to admire your jet's beautiful interior on the way to your destination. CURIOUS ABOUT JET AGENCY?
Please let us know a little bit about you, and one of our experienced membership directors will be in touch shortly to help personalize a membership for you.